MSNBC gets punked by fake Larry Donnell (Video)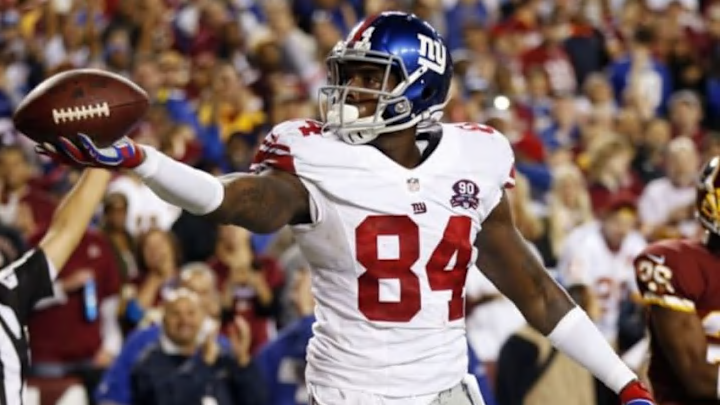 Sep 25, 2014; Landover, MD, USA; New York Giants tight end Larry Donnell (84) celebrates after scoring a touchdown against the Washington Redskins in the second quarter at FedEx Field. Mandatory Credit: Geoff Burke-USA TODAY Sports /
MSNBC thought it was getting an awesome breaking news interview with New York Giants tight end Larry Donnell and instead it got punked.
---
More from New York Giants
In case you missed it, Giants tight end Larry Donnell was involved in a Delta plane crash Thursday morning. The plane skidded off the runway at New York's LaGuardia Airport while trying to land. The plane went off the main runway and through a chain-link fence before coming to stop right at the edge of Flushing Bay. The photos of the incident show the plane with its nose hanging over the edge.
Donnell was live-tweeting the incident and later posted photos and video from his Instagram account. Only six people of the 131 on the plane suffered injuries and those were not life-threatening.
MSNBC was on hand to try and get an interview with the NFL star, but instead they ended up talking to an impostor who promptly shouted NSFW things on the air.
The real Donnell later released a statement through the team saying that he was blessed to be fine and uninjured after the incident. He said he hoped the other passengers were also ok and that he and others were shocked and alarmed when the plane began to skid, but as far as he knew, everyone got off safely.
According to a story by ESPN, the airport was later closed for incoming flights because fuel was leaking from the downed plane. A spokeswoman said that the National Transportation Safety Board would be sending an investigator shortly for the incident.
Donnell was flying in from Atlanta to sign his 2015 contract tender for the Giants. He is an exclusive rights free agent, which means he is bound to the Giants for another year as long as they decide to tender him. The Giants did so, expecting him to be their starting tight end again in the 2015 season. They are paying him $585,000 for one year.
Donnell had 63 catches for 623 yards, which was good enough for third on the team. He was second in touchdown catches with six.
[TMZ]
More from FanSided