Yankees outfielder suffers concussion after running into wall (video)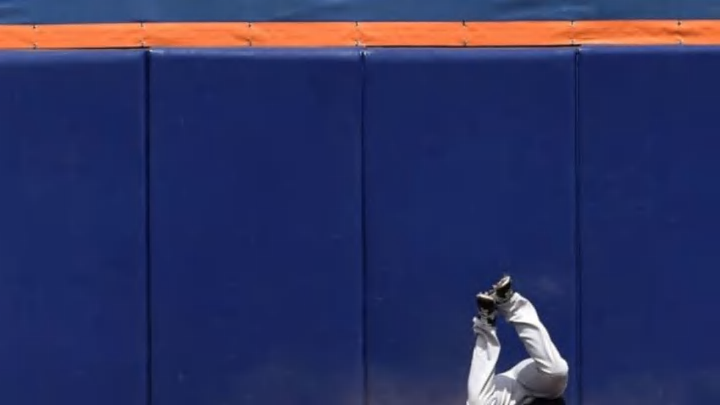 Mar 22, 2015; Port St. Lucie, FL, USA; New York Yankees centerfielder Jose Pirela (63) falls to the ground after crashing into the wall while attempting a catch against the New York Mets at Tradition Field. Mandatory Credit: Scott Rovak-USA TODAY Sports /
New York Yankees OF Jose Pirela gave a great effort to catch a baseball, but suffered a concussion after slamming into the outfield wall. 
---
When outfielders approach that wall when chasing after the baseball, they tend to slow up a little bit in order to avoid slamming right into that wall. During the Spring though, some players are giving it all that they can in order to impress their coaches as the are trying to make the opening day roster. That is what we saw out of New York Yankees OF Jose Pirela on Sunday.
New York Mets OF Juan Lagares slammed the ball deep to center field and Pirela tried to give it chase, but the ball was able to barely get over his glove. As Pirela reached to catch the ball, his momentum took him right into the centerfield wall. He took the hit to the head and his teammates had to pick up the ball while Lagares was rounding all the bases for an inside the park homerun.
Pirela was diagnosed with a concussion on the play and a cart had to be brought out to take him out of the game. The latest report on him was positive though.
You have to love Pirela's effort to get to that baseball. He went all out and came up just short. Unfortunately he ran right into the wall.
More from FanSided