The Masters: Rickie Fowler hits the pin on 14 (video)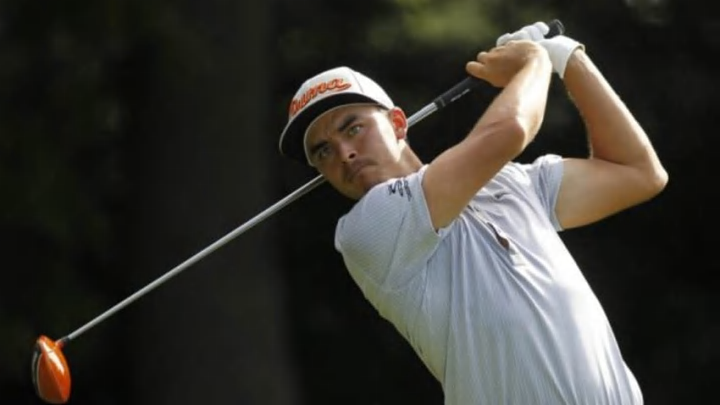 Sep 12, 2014; Atlanta, GA, USA; Rickie Fowler tees off on the third hole during the second round of the Tour Championship at East Lake Golf Club. Mandatory Credit: Brett Davis-USA TODAY Sports /
Rickie Fowler was certainly on target during his approach to the 14th green.
---
Rickie Fowler hasn't had his best day during the opening round of The Masters, but did provide one great shot nearing the end of his day.
Despite the lack of stylish orange pants that he won't wear until Sunday, Fowler squared up the pin on his approach shot on the 14th hole Thursday evening.
Fowler would go on to par the hole after the near miss. With a slightly different bounce, Fowler may have been able to sink the shot and get his round back on track. Jordan Spieth also hit the pin earlier in the day, with an arguably more impressive shot.
More from The Masters
Those are the kind of bad breaks that have hurt Fowler at majors recently. Fowler in the top three in three majors last year and came in fifth place at the 2014 Masters, but was unable to secure his title in any of them.
Fowler sits at one over par through the 16th hole Thursday, tied for 41st place and well behind the -8 pace of leader Jordan Spieth. His day started out well enough with two birdies in a row, but Fowler slipped down the leaderboard after bogeys on 4, 5, 7 and 11.
The pin placement on 14 has lead to an interesting day, as Fowler, Spieth and Sergio Garcia have all drilled it on their approaches.
More from FanSided