NHL mock draft 2017: All-time greats hit market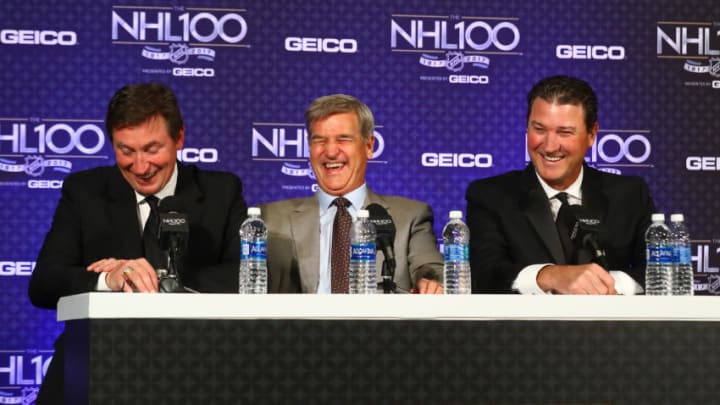 LOS ANGELES, CA - JANUARY 27: (L-R) Former NHL players Wayne Gretzky, Bobby Orr and Mario Lemieux react during the NHL 100 - Media Availability as part of the 2017 NHL All-Star Weekend at the JW Marriott on January 27, 2017 in Los Angeles, California. (Photo by Bruce Bennett/Getty Images) /
BOSTON, MA – MAY 23: A sculpture of Bobby Orr stands in front of TD Garden prior to Game Five of the Eastern Conference Finals between the Tampa Bay Lightning and Boston Bruins during the 2011 NHL Stanley Cup Playoffs on May 23, 2011 in Boston, Massachusetts. (Photo by Bruce Bennett/Getty Images) /

The Stars are in "win now" mode. So it makes sense for them to draft someone who makes them a Stanley Cup contender immediately. Even if they only get him for roughly seven to 10 years. Bobby Orr would be a perfect fit for the Stars. He's the best defenseman of all-time and he would turn Dallas back into the offensive powerhouse they were in 2015-16 while stabilizing their blue line defensively.
Orr playing with guys like Tyler Seguin and Jamie Benn would be extremely fun to watch. He would flourish in today's NHL. Perhaps fans would get a fair comparison to see if Erik Karlsson is truly comparable to Orr. The Bruins defenseman had a tragically short career thanks to knee injuries, but when he was healthy, no blue liner (and perhaps no player) had more of an impact on his team than him.
Thanks to his two-way game, Orr would be a great fit in today's game. Ken Hitchcock would love him for so many reasons. Arguably the best reason? Orr possessed the puck so often, he rarely played defense. That's a heck of a concept. Orr was built to thrive in a hockey league that depends on speed and tenacity.