My Sophomore Crush: Buddy Hield has planted the seeds for a long NBA career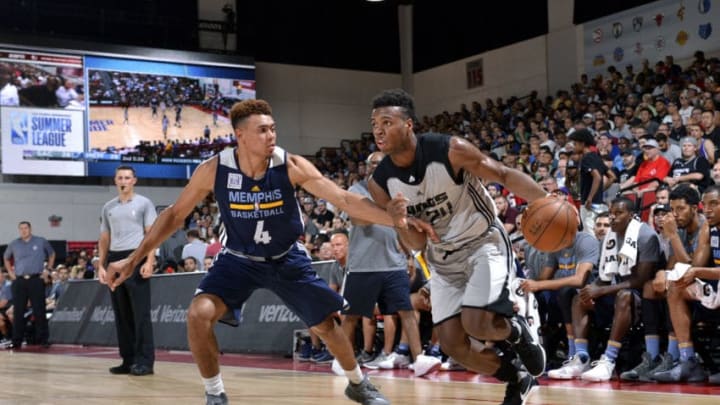 LAS VEGAS, NV - JULY 9: Buddy Hield /
It's summer — popsicles, beaches, campfires and summer love. As the heat rises, time slows and crushes develop. We're leaning into that amorous mood this week at The Step Back, sharing our sophomore crushes. Last year may have given us an uninspiring rookie class, but we're feeling pretty enamored with the future.
Buddy Hield was bound to make NBA fans argue with each other. After a successful career at Oklahoma, he brought with him all the usual stigmas associated with four-year college players into the draft, especially ones with limited athleticism. There were those who believed he would have little room to grow in the NBA, and others who believed even a developed version of his game wouldn't make an impact.
Over the course of a bizarre rookie season, Hield went ahead and proved the other side, the optimists, those who just want to be happy, correct.
Read More: Five lineups we can't wait to see next NBA season
I'm one of those optimists who became a believer last year. If we limit draft re-grades to the context of whether or not a player became "good" or "bad" or reached their potential, it's difficult to understand value. Much more practical is to define how well a given player filled out their role. Many players blast past the role asked of them and become stars; several more plummet almost immediately, before we even have a real impression of them. Hield's career so far can't be sorted into either of these categories.
Instead, his rookie season should be considered a booming success based on how well he was able to fill immediately a role that few can. Last season, only nine players reached the combination of volume and efficiency that Hield did when it came to 3-point attempt rate, 3-point percentage and 3-point attempts per game. The guys above Hield on the list put him in great company: Steph Curry, Kyle Lowry, JJ Redick, Jae Crowder, Ryan Anderson. Most of those guys make $20 million per season; Hield is merely a rookie. He was supposed to be at least a shooter coming out of college, but being that guy consistently at the NBA level is difficult. It usually takes time.
That Hield was able to immediately become one of the league's preeminent shooters is incredible. He did so not just by making shots, but by keeping defenses honest in ways few believed he was able. Though his inside game isn't a finished project, it's diverse enough to give defenders trouble. According to NBA.com, Hield shot 42.9 percent on pull-up 2-pointers, as well as 66 percent in the restricted area after arriving in Sacramento following the DeMarcus Cousins trade. That smidgen of versatility in his offensive game makes it difficult for defenders to sell completely on the 3-point shot.
Fortunately, Hield was worth 1.3 win shares this year despite barely beginning to develop the rest of his game. Almost half of his shots were 3s, and he made 39.1 percent of those triples. From the corner, where the best offenses create open shots, Hield made 46.2 percent of his attempts.
The only place to go from here is getting more opportunities. In Sacramento, Hield managed a 22.9 percent usage rate fairly well, but might find even more freedom in the upcoming season. The team moved on from Rudy Gay, Arron Afflalo and Tyreke Evans this summer, leaving more space on the wing to give Hield the ball more often. Instead of Ty Lawson or Darren Collison, Hield will have George Hill feeding him the ball next season. The arrow is pointing up.
Next: Another Michael Jordan record falls
Many players coming into the league don't even have a role in sight when they are drafted. Others set their sights too high, looking past the role that best fits them and crumbling under the pressure of being six steps too far ahead. Hield came into the league and did what he was supposed to do. The seeds have been planted for a long, lucrative NBA career. I appreciate that in a player. I appreciate that in Buddy Hield.