Evander Kane and the San Jose Sharks: A match made in heaven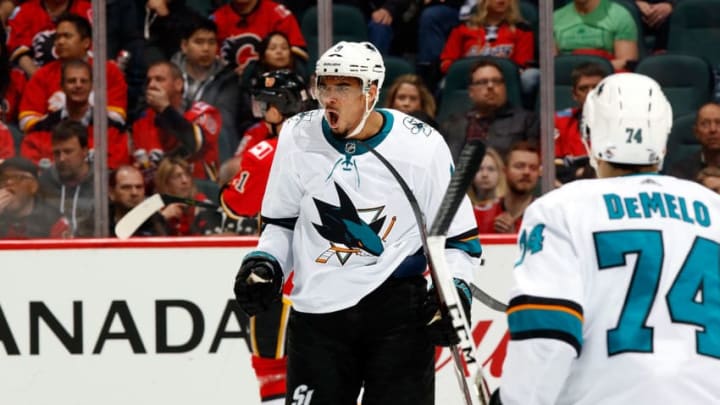 CALGARY, AB - MARCH 16: Evander Kane /
Evander Kane was one of many players to be dealt at this year's NHL trade deadline, but few have found the immediate scoring touch the newest member of the San Jose Sharks has.
Drafted No. 4 overall in the 2009 NHL Entry Draft, Evander Kane was once a highly touted power forward who could throw his weight around and put the puck in the net. He began his career with the Atlanta Thrashers organization, playing three years with Atlanta before it relocated to Winnipeg.
Playing North of the border, Kane has experienced ups and downs throughout his young career. In his first season with the Jets, Evander showed the NHL his potential. He set a career high in goals, with 30, and assists, with 27, for a solid 57-point campaign.
Following his impressive first season in Winnipeg, Kane struggled to stay healthy, as many young players do. After a concussion, Kane was plagued with a shoulder injury that eventually required surgery. Over the next three seasons, Kane missed a combined 64 games.
Not only was health a problem at the time — so was Kane's personality. Teammates in Winnipeg such as Dustin Byfuglin were clearly frustrated with his ego. Numerous incidents such as showing up late for team events, posting pictures to social media with stacks of money and posting discriminatory tweets eventually lead to Kane's trade out of Winnipeg. On Feb. 11, 2015, Kane was traded to the Buffalo Sabres. The trade was a package deal that include Tyler Myers and Zach Bogosian.
PHILADELPHIA, PA – JANUARY 29: Evander Kane /
Over the next three seasons in Buffalo, Kane played a total of 196 games in Buffalo. He recorded 68 goals and 50 assists for 118 points. During his tenure with the Sabres, he posted respectable numbers. The biggest aspect of his game that continued to grow was his maturity level off the ice.
The respectable points totals and his maturity level as a 26-year-old likely helped in the San Jose Sharks' decision to acquire Kane. The decision, after sending prospect Danny O'Reagan and two conditional draft picks to the Sabres for Kane, has payed off in spades.
After arriving in sunny California, Sharks captain Joe Thornton picked up the newest Shark from the airport, greeting him with open arms. Kane was immediately given a chance to show his brilliance in San Jose. Slotted into a scoring line among the Sharks' top six, Kane has thrived.
Splitting time on the first and second line, Kane has taken shifts with both Logan Couture and Joe Pavelski, as well as with Joe Thornton and Tomas Hertl. Pairing Kane with any of these offensive studs makes him a legitimate scoring threat whenever he is on the ice. The promise the left winger delivers was shown to its fullest with his historic performance Friday night.
In a clash with the divisional opponent Calgary Flames, a team which, along with the Sharks, is fighting for its playoff life, San Jose needed Kane to deliver a solid performance. He exceeded all expectations.
CALGARY, AB – MARCH 16: Mike Smith /
Coming into the game, Kane held an NHL record with the most two-goal games without posting a hat trick — 27.
For the first time in his career, Kane recorded a hat trick, and added a fourth goal just for good measure. The four-goal performance brought his total up to 10 points in just nine games with a Sharks team that has posted a 7-2 record since bringing Kane in.
Kane's presence also brings another dimension to an already stellar power play. Brent Burns, Marc-Edward Vlasic, Couture and Pavelski, as well as Kane, make the Sharks first power play unit a force to be reckoned with.
The surging Sharks' recent play has also lifted them from a wild-card team to second in their division, behind only the Vegas Golden Knights. Kane has been a catalyst in the team's recent hot streak.
A look into how the Sharks rank among division leaders, the Golden Knights:
It is becoming clear that the Vancouver native has cleaned his game up since his stint with Winnipeg. Playing a team game and doing what is required of him without any complaints show the maturity Kane has gained through his playing career. His recent play has not only helped himself, but the team, too.
Next: NHL Power Rankings: 30 Best LW of All-Time
As Kane's solid play will continue down the stretch, and the Sharks enter the playoffs, don't be surprised to see the Sharks lock up their talented left winger, who is a pending free agent this offseason.