'Are You the One?' is a perfect MTV dating show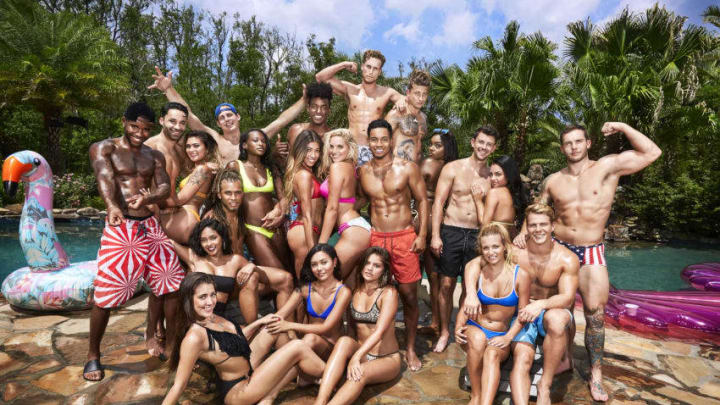 Courtesy: MTV Press /
In which we convince you Are You the One? truly earned its spot in the MTV Madness Final Four.
It was certainly a bold move, advancing Are You the One? to the Final Four of MTV Madness. The little No. 11 seed that could beat out such aughts classics as Made, Next, Pimp My Ride and Cribs to top the Self-Improvement Region. So, what is this show and what makes it so dominant, so able to take down multiple MTV show icons with name recognition and deep histories? What is Are You the One?
Are You the One? is a perfect MTV show. It is, in fact, the platonic ideal of an MTV show. It is one part dating show, one part reality show, fifty-million parts poor decisions. (Much respect to the oft-high quality original scripted and animated programming, but everyone's first thought when you think MTV is trashy reality.) Here is the conceit: 20-22 SiNgLeS live in a house together with no writing utensils (this will be important later) and an unfathomable amount of booze. Living among them is their Perfect Match, their soulmate — according to MTV's Expert Matchmakers who glean their expertise from talking to friends, family and exes. The challenge is for all the contestants to find out who their perfect match is before the 10 weeks are up. If they do, they win a million dollars (split 22 ways).
But wait, there's more! Each week, the contestants compete to go on one-on-one dates. Typically, there are two to three winners, and they pick their dates based on whoever they're currently ~into~ in the house. (Sometimes, they compete as pairs, then, obviously, your date is your teammate.) The dates are either like, really cool water sports and exotic excursions when the show goes to an island or literally just going to various bars the season AYTO took place in New Orleans. Meanwhile, back at the house, the rest of the contestants vote on which couple they want to send into the Truth Booth. The Truth Booth reveals whether or not the couple is a Perfect Match. Again, the goal of the show is for everyone to find their Perfect Match. Nine out of 10 times, the couple is wrong because being right does not make for good television and also these people are ~~bad at love~~. Then, there's the light ceremony, in which the one of the genders, one by one, in an order designed to create the most drama, pick their "perfect match" for the night. (The next week, the other side of the couples picks, etc., etc. Currently, MTV has not worked out how to incorporate anything besides heterosexuality into this elaborate-but-not-that-elaborate show.) Then, the host, who for five seasons was Ryan Devlin and is now Terrence J, reveals how many of the pairings are right, as indicated by beams of light that go off in a very slow and dramatic fashion usually interrupted by a commerical break. With the helpful knowledge of how many matches, but not which matches, are right, the couples go back to their house to get drunk and cry and hook up.
Obviously, these pillar events (competition, dates, truth booth, light beams) are interspersed with lots and lots of drinking, making out, yelling, fighting, pool time, video confessionals and so on because this is an MTV show. There's also something called The Boom Boom Room, the purpose of which you can no doubt figure out for yourself.
Invariably, after multiple weeks of being ~~bad at love~~ the house splits into two camps: Those who want to win the game with "strategy" and those who are here for "love" and refuse to end things with their beloved, even though they have been told they are Not a Match and will very much lose the game.
As a viewer, this makes for excellent television. It's like a mix of Survivor, Bachelor in Paradise, The Real World and also the board game Clue. (Because you the viewer get sucked in and are also trying to figure out the math on who is a perfect match.) Also, the AYTO reunion show is perhaps the best in its class because it always comes to light that the cast's interpersonal relationships have only gotten messier after the show, not least because they begin to overlap and hook up with previous casts. It's amazing and it's absolutely worth of being in the MTV Madness Final Four.
Next: FanSided presents MTV Madness
N.B. The only better dating show is Baggage with Jerry Springer, but that's not on MTV.
Explore the rest of the FanSided MTV Madness bracket and see how the Sweet 16 and Elite panned out. Check in next week to see which shows come out of the Final Four and who will play in the Championship game.