Steven Adams is exactly who you think he is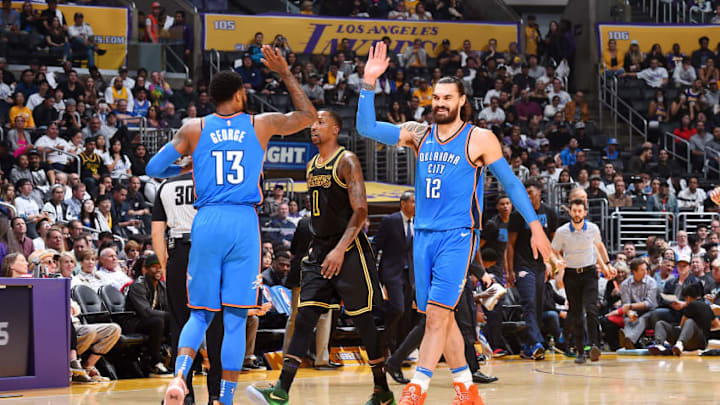 Paul George and Steven Adams | Copyright 2018 NBAE (Photo by Andrew D. Bernstein/NBAE via Getty Images) /
Paul George was asked about his thoughts on Steven Adams as an opponent versus how he sees Adams after playing with him for almost a full season now.
Paul George used to be a Steven Adams opponent. Now he's a teammate. A reported asked George after practice what that transition has been like.
His answer was exactly what you'd expect — playing against him, George thought Stevens was a cocky, antagonizing, big man who is out there to start trouble and get under opponents' skin. When they're wearing the same jersey, he's a great dude, incredible teammate, funny guy, and he's still the same physical player who likes to mix it up and get into with whatever team the Thunder are up against. And now, George appreciates him for it.
This obviously wasn't a startling revelation.
The "you love him as long as he's on your team" description is a cliché for a reason. It's one that fits Adams to a T along with a bevy of other players, past and present, who play a physical, aggressive, emotionally charged brand of basketball. Opponents aren't going to like him, but he's exactly what you want in the defensive anchor, rim protecting, rebounding role that Adams plays with Oklahoma City.
Watch five minutes of a Thunder game and you can see the fire, intensity, and trash talk in Adams' game. Not to stereotype, but off the court, Adams fits what I'd expect based on the handful of Kiwis I've met — mostly laid back, dry sense of humor, doesn't take things too seriously, and gets along with just about everybody.
Of course, I already knew pretty much all of this before Paul George told us, just from Adams' autobiography. I haven't read it (it doesn't come out until July) but his comments when asked about it in an interview, told me pretty much everything I needed to know.
Next: Every NBA team's greatest playoff moment
When the subject first arose, Adams acted like he didn't remember it. When asked what the book entails, he told reporters, "It's about myself… that's pretty much it, mate."
The book was written with author, Madeleine Chapman, and when another reporter asked him about his skills as an author, he replied, "I don't write… I can barely read, mate. I'm gonna write a book? Jesus."
Good on ya, Steven.