Fantasy Baseball 2018 DFS Late-Slate Lineup for April 2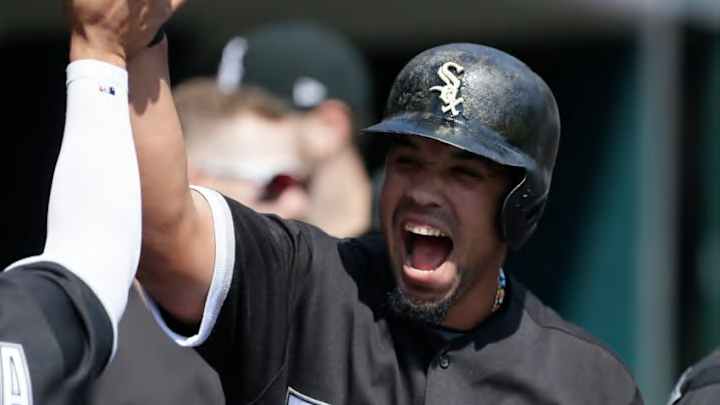 DETROIT, MI - SEPTEMBER 14: Jose Abreu /
There are nine games in the April 2 late slate for DFS. Here are the players worth picking for each position without breaking the bank.
Baseball season is officially underway and that means it's time to win some money in DFS, or daily fantasy sports. Whether you use DraftKings or FanDuel, there is a strategy behind the players you select within your budget.
There are some differences between the two sites. DraftKings uses two pitchers, a catcher, first base, second base, third base, shortstop and three outfielders with a $50,000 budget. Fanduel's lineup calls for one pitcher, catcher/first base option, second base, third base, shortstop, three outfielders and a utility spot with a $35,000 budget. Players cost less on Fanduel and they focus more on offense.
It's your personal preference on which site you use. For this article, I will be referencing Draftkings' prices and point values. The DFS late is for nine games starting at 7:07 PM EST. So, here's the lineup that will score the most points on April 2.
P: Mike Clevinger, $10,400
P: Brian Johnson, $6,900
Clevinger faces the Angels while Johnson pitches against the Marlins. Both offenses can produce runs and with both pitchers on the road, they could give up a crooked number. However, the opposing offenses are prone to strikeouts and leaving men on base. At $6,900, Johnson is a cheap pitcher that can pitch long enough to get the win.
Honorable Mention: Charlie Morton, $11,100. Matt Harvey, $7,800.
More from FanSided
C: Welington Castillo, $3,400
1B: Jose Abreu, $4,500
2B: Cesar Hernandez, $3,900
3B: Alex Bregman, $4,300
SS: Elvis Andrus, $4,000
Picking hitters is about finding the right matchup while keeping the price down. Castillo and Abreu will hit against Jaime Garcia. He gave up at least three runs in five of his last 10 games last season but did look good in the spring. With the wide outfield of Rogers Centre, they'll drive in a few runs.
Andrus is the Rangers new leadoff man with Delino DeShields on the DL. Those extra at-bats will give him the opportunity to steal some bases and score runs against Andrew Triggs.
Honorable Mention: Anthony Rendon, $4,400. Ozzie Albies, $3,600.
OF: George Springer, $5,200
OF: Mookie Betts, $4,400
OF: Kevin Pillar, $2,900
I don't get how Pillar is so cheap. He is hitting well, but that's to be expected. He already has three steals. Albeit all coming in one game, including stealing home, Pillar is not afraid to run. He'll be able to steal another one or two, which are five points each, against the White Sox.
Because of the savings from Pillar, I was able to splurge a bit on the other two outfielders with Springer and Betts. Springer and Bregman will face Chris Tillman and the Orioles at home. The Astros have one of the best lineups and those two should be the anchor of the offense.
Honorable Mention: Nick Markakis, $3,500. Mike Trout, $5,100
Next: Injuries, injuries and more injuries
With snow in the Northeast, keep an eye out for any cancellations. There are nine games in this slate, so there are plenty of talented options to replace them with. DFS is about finding value for the right price. There's a reason you can't have all the stars in your lineup. With the right matchup, the cheap players can be worth the investment.