Capitals vs. Blue Jackets: Game 1 prediction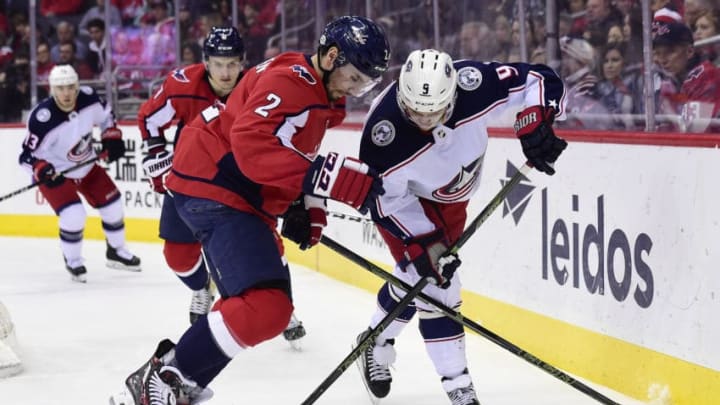 WASHINGTON, DC - FEBRUARY 09: Matt Niskanen /
Who will take Game 1 between the Metropolitan champion Washington Capitals and red-hot first wild card Columbus Blue Jackets?
Game 1 between the Washington Capitals and Columbus Blue Jackets takes place on April 12. Both teams will be looking to exorcise their franchise-haunting playoff demons, but they'll have to deal with each other first. The goalie matchup in Game 1 will be Philipp Grubauer vs. Sergei Bobrovsky.
Washington enters the series as a slight favorites, and they had to fight hard to earn that right by earning their third straight Metropolitan Division title. Red-hot Philipp Grubauer will get the game one start over Braden Holtby as expected, and the Capitals are ready to rally behind him to take an early lead in this series.
Washington won eight of its final ten games to prepare for the postseason, dropping only three games after snapping a late February/early March skid. The Capitals should be plenty motivated to get this playoff run started with how much it's been the center focus of the season since October, and Alex Ovechkin is coming off of his best season in eight years.
Columbus comes into Thursday's game losing only four games since the trade deadline, marking themselves as the hottest team in the league entering the postseason. The Blue Jackets are banking on that hot streak to carry over into the postseason for an upset over the Capitals to score their first playoff series win in history. As no surprise, Sergei Bobrovsky gets the start in Game 1 and he needs to shake the playoff demons out of his head right away to have a successful series.
The Blue Jackets are hoping to shake last year's first round disappointment to the Penguins out of their head, and they've got trade deadline acquisitions Thomas Vanek, Ian Cole and Mark Letestu who have fit in perfectly with the lineup to help them do so.
Next: 10 reasons Stanley Cup Playoffs are better than NBA Playoffs
The Capitals won three of four games against the Blue Jackets this season, but the only loss was after the acquisitions the Jackets made at the deadline, resulting in a 5-1 shellacking. Columbus stealing game one and canceling out Washington's home ice advantage could swing the series in their favor, but the Capitals and their fans will have the energy to steal this one late in regulation.
With under five minutes to go in a nail biting 2-2 game, Nicklas Backstrom scores the go ahead game winning goal and the Capitals bury an empty netter to seal a 1-0 series lead.
Game 1 Prediction: Capitals defeat Blue Jackets 4-2
For more from the NHL playoffs, make sure to follow FanSided and stay tuned to our NHL hub for all the latest news and results.