Penguins vs. Flyers Game 2: Full highlights, final score and more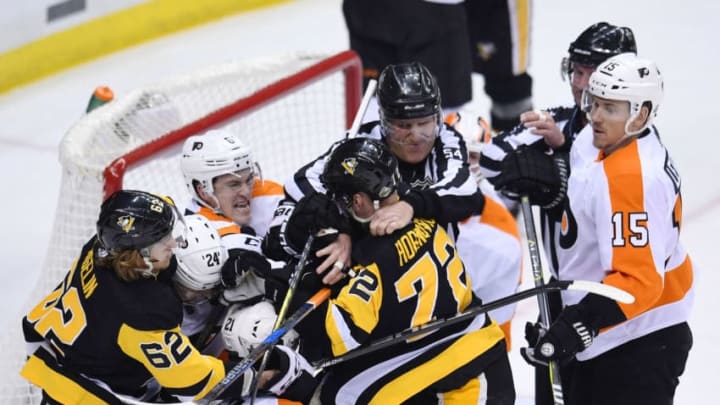 PITTSBURGH, PA - APRIL 13: Pittsburgh Penguins right wing Patric Hornqvist (72) and Pittsburgh Penguins left wing Carl Hagelin (62) scrum with Philadelphia Flyers defenseman Travis Sanheim (6), Philadelphia Flyers right wing Matt Read (24) and Philadelphia Flyers center Scott Laughton (21) during the second period. The Philadelphia Flyers won 5-1 in Game Two of the Eastern Conference First Round during the 2018 NHL Stanley Cup Playoffs against the Pittsburgh Penguins on April 13, 2018, at PPG Paints Arena in Pittsburgh, PA. (Photo by Jeanine Leech/Icon Sportswire via Getty Images) /
The Penguins sent a message in Game 1, and the Flyers responded loud and clear that they are going nowhere with a solid Game 2 win.
This Pittsburgh Penguins and Philadelphia Flyers series is starting to turn into everything we could've hoped for. Two games in, two convincing wins for both sides and next we'll switch up the scenery for game three on Sunday in Philadelphia.
The Penguins dominated Game 1 of the series with a 7-0 win. Everything that could've went wrong exceeded even the most pessimistic of the fan base's expectations, topped off with a Sidney Crosby natural hat trick. The Flyers were given absolutely no chance in Game 2, Brian Elliot was still starting, and the overall since of hopelessness was at an all-time high in Philadelphia.
The best remedy to hopelessness is a goal, especially the first one of the game, and that's what Shayne Gostisbehere delivered late in the first period on the power play. That one goal made all the difference for Philadelphia. Sean Couturier buried another past Matt Murray to make it 2-0 early in the second, and you could hear the collective sigh of relief from the city of Philadelphia.
The Flyers would bury three more in the third period including an empty net goal, and Patric Hornqvist would put the Penguins on the board, and Brian Elliot would make 34 saves for a 5-1 Flyers win, tying the series at 1-1. When everything looked to be a mere formality just 48 hours ago, we've suddenly got a real interesting series on our hands.
Three stars
1. Sean Couturier: When the pressure was on and the faith of their fans was on the line, Sean Couturier stepped up in a big way for Philadelphia. Couturier put up three points tonight, all of them crucial and at the games biggest moments. Couturier assisted on Gostisbehere's opening goal, scored the eventual game winning goal early in the second, and put a gorgeous pass between the legs to set up Nolan Patrick's first career playoff goal to leave no doubt with a 4-0 lead. The calls came for someone to step up, and Couturier answered.
2. Brian Elliot: In Game 1, Brian Elliot let in five goals on 19 shots and Flyers fans called for his head on a plate. Petr Mrazek was almost the certain starter for game two, but Dave Hakstol stuck to his guns and stayed with Elliot for Game 2. The decision payed off, as Elliot made 34 saves on 35 shots for his first playoff win in his last six appearences. Elliot kept the Flyers in charge with a big save on a Crosby breakaway to keep them ahead by two, and his confidence was on full display for the rest of the game.
3. Ivan Provorov: After being almost invisible and minus two in Game 1, Ivan Provorov's skill was on display tonight. Provorov recorded two assists and posted a plus two in Game 2, but his performance off the stat sheet was enough to edge Gostisbehere for the final star of the game. Solid defense and physical play backed up by solid offense, which is exactly what the Flyers needs to top Pittsburgh and tie the series.
Highlights
Next: 25 most bizarre goalie masks in NHL history
Game 3 takes place on Sunday at 3 p.m. ET in Philadelphia, and I'd take serious steps to make sure you don't miss this one.
For more from the NHL playoffs, make sure to follow FanSided and stay tuned to our NHL hub for all the latest news and results.