Talking Dead season 8 finale live stream: Watch online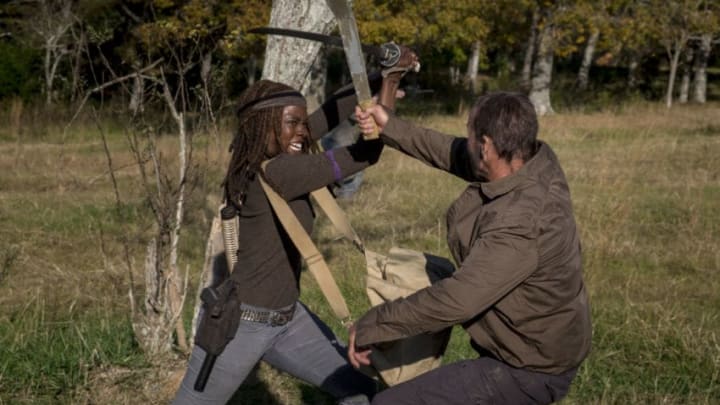 Danai Gurira as Michonne - The Walking Dead _ Season 8, Episode 16 - Photo Credit: Gene Page/AMC /
Here's how you can watch Talking Dead's season 8 finale live stream online or the old-fashioned way right on your television.
Talking Dead will discuss The Walking Dead and Fear the Walking Dead's latest episode tonight at 11 p.m. ET on AMC. You can catch the series live online at the official website for AMC. It's a big night for the talk show with The Walking Dead and Fear the Walking Dead's first ever crossover event.
This week's episode features The Walking Dead's Andrew Lincoln (Rick Grimes), Jeffrey Dean Morgan (Negan), Lennie James (Morgan), Fear the Walking Dead's Garret Dillahunt, Danay García (Luciana), creator Robert Kirkman, and executive producer Scott M. Gimple. Jeffrey Dean Morgan appears to be a late addition to the guest list as he was not listed on Talking Dead's initial tweet. Chris Hardwick will host Talking Dead's finale like always.
According to TVByTheNumbers, last week's Talking Dead episode saw 1.2 million viewers. Andrew Lincoln usually only drops by Talking Dead for special occasions like season finales, so it's a must-see edition for the show.
It'll likely be Talking Dead's most viewed episode since season 8 came back on the air with Rick Grimes and Negan sharing the stage. Not to mention the aftermath of Morgan's move to Fear the Walking Dead. What will Robert Kirkman have to say about the merging of his creations? Kirkman always has a few surprises up his sleeve for times like this.
Will we be ending on another major cliffhanger to finish season 8? Speculation has loomed around Maggie Greene's pending exit with actress Lauren Cohan signing on to ABC's Whiskey Cavalier. Cohan is noticeably not on Talking Dead for the season 8 finale. Is it a sign of something more? We'll find out in due time what the future holds for her Walking Dead character.
Talking Dead season 8 finale live stream details
Next: All live stream info in one place
Here's how to watch Talking Dead's latest episode tonight online via live stream or on TV:
Date: Sunday, April 15
Start Time: 11 p.m. ET
TV Channel: AMC
Live Stream: Start a free 7-day trial and watch on Fubo TV. You can also watch on AMC
Missed a recent episode? No problem! Be sure to check out the official AMC Episode Archive page for access to previous episodes based on your cable provider.