The 5 most memorable games of the 2017-18 NHL season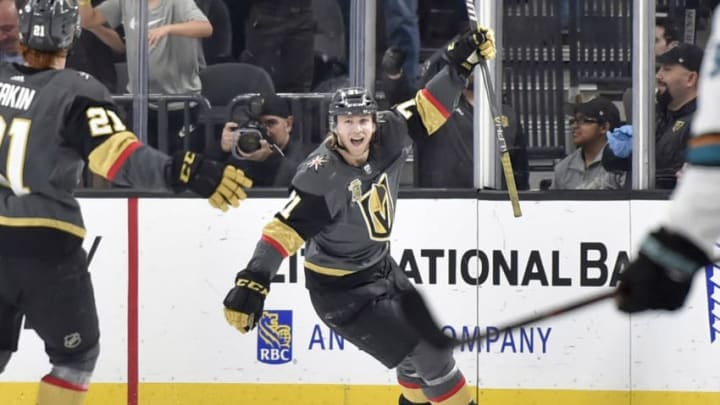 LAS VEGAS, NV - MARCH 31: William Karlsson /
LAS VEGAS, NV – MARCH 31: William Karlsson /
1. Everyone expected the Golden Knights to win their division, right?
This game, to me is the encapsulation of how crazy and touching this season has been for the players, the fans and the NHL as a whole.
On March 31, the Golden Knights took on the Sharks in one of the final home games of the year for Vegas. The game started off with a beautiful ceremony that saw the Knights retire No. 58, in memory of the 58 victims of the massacre on the Vegas Strip. It was a touching gesture that was paired with the 58 seconds of silence held at the Knights home opener in October.
From there, the game went on to see back-and-forth play from both the Sharks and the Knights until around the 14:00 mark of the third period.
https://twitter.com/GoldenKnights/status/980308007937458179
William Karlsson scores his 42nd goal of the year, on his second short-handed breakaway goal in as many games, with a no-doubt goal of the year winner.
Because why not, right?
Not only does he do this while he continues to surpass his previous career high of nine goals in a season, but this goal went on to the be the game winner. Not only was this Vegas' 50th win of the season, but the win the clinched their Pacific Division title — making them the only team in the modern era to win a division title in their inaugural season.
Next: Each NHL Team's Biggest 'What if" Moment
The reason this game is the embodiment of what this season has been for us all is because for the first time in a long time, we have seen a sense of competition in the league that has been missing. New players are taking over superstar roles, and new teams are making serious splashes and playoff pushes. Combine this with the success of the Golden Knights and how they keep breaking every expectation, and you have a year that has been extremely fun to watch.