Pittsburgh Penguins vs. Philadelphia Flyers: Game 4 prediction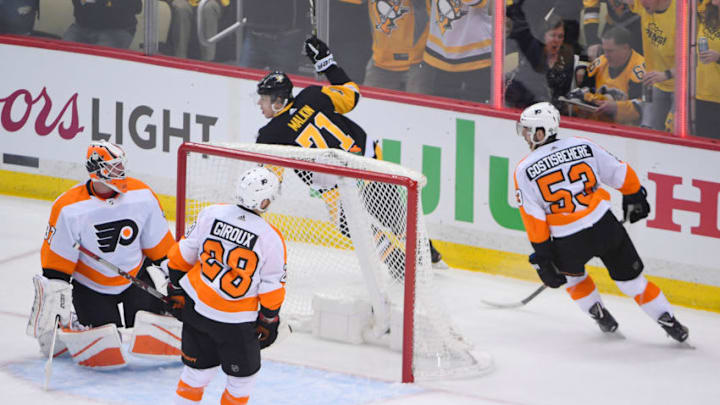 PITTSBURGH, PA - APRIL 11: Pittsburgh Penguins center Evgeni Malkin (71) scores past Philadelphia Flyers goaltender Brian Elliott (37) during the first period in Game One of the Eastern Conference First Round in the 2018 NHL Stanley Cup Playoffs between the Philadelphia Flyers and the Pittsburgh Penguins on April 11, 2018, at PPG Paints Arena in Pittsburgh, PA. (Photo by Jeanine Leech/Icon Sportswire via Getty Images) /
If the Philadelphia Flyers hope to even their series with the Pittsburgh Penguins, they're going to need more from their best player.
The first-round series between the Pittsburgh Penguins and Philadelphia Flyers hasn't been the most competitive matchup through three games. In total, 19 goals have been scored in the series, but the lowest margin of victory has been four goals.
The Penguins flexed their muscles in Game 1, skating the Flyers off the ice en route to a 7-0 victory. Philadelphia responded in Game 2 with a 5-1 victory. Pittsburgh said, "Anything you can do, we can do better," and put up a 5-1 victory of their own in Game 3.
To the surprise of no one, Sidney Crosby has been the best player in the series. He had seven points in the first three games. Sean Couturier leads Philadelphia with three points.
The bad news for the Flyers is that they may be without the services of Couturier in Game 4. He collided with Radko Gudas in practice on Tuesday and his status for Game 4 is unknown at the time this article was published. If he's unable to play, Nolan Patrick or Valtteri Filppula could center the line between Claude Giroux and Jake Voracek.
Filppula is scoreless in the playoffs, while Patrick has a goal and an assist. Whether it's the veteran, the rookie, or someone else, Philadelphia has to get Giroux and Voracek going. The top line for Philadelphia has been throughly dominated by Crosby and linemates Jake Guentzel and Bryan Rust.
The first three games didn't offer much clarity in how this series is going to shake out. The Penguins are the superior team. They've proven that in two out of the three games. Game 2 provided hope for the Flyers and their fans, but their goaltending isn't good enough and they don't have to scoring depth of Pittsburgh. If the Flyers want to even this series, their power play has to be better. They can't go 0-6 with the man advantage while giving the Penguins seven power play opportunities like they did in Game 3.
The potential loss of Couturier puts even more pressure on Giroux to score. Philadelphia has to get more out of him because Crosby and Evgeni Malkin aren't going away. Especially if Brian Elliot is going to give up two goals on every 10 shots.
NEXT: 20 stadiums that need to host Stadium Classic
Prediction
The Flyers are resourceful, but there's too much working against them in Game 4. Even if Couturier plays, he won't be 100 percent and trying to check Crosby or Malkin at less than 100 percent is worse than throwing Filppula out there. Bottom line, Philadelphia's poor goaltending isn't going to get better.
Penguins win, 4-0