With cars on the decline, maybe the NASCAR SUV series should be a thing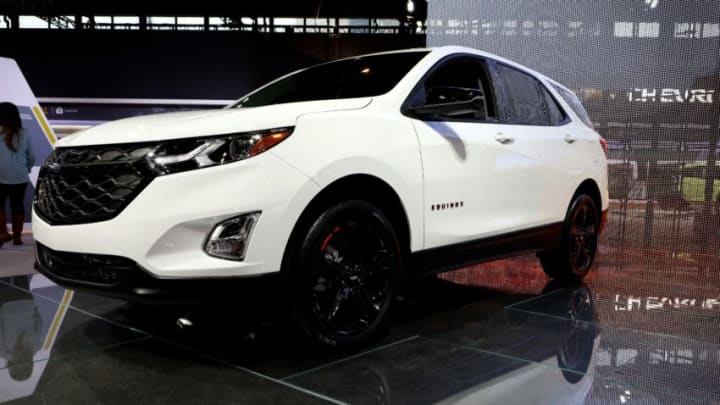 CHICAGO - FEBRUARY 08: 2018 Chevrolet Equinox is on display at the 110th Annual Chicago Auto Show at McCormick Place in Chicago, Illinois on February 8, 2018. (Photo By Raymond Boyd/Getty Images) /
It's hard to believe anyone would really want to watch people race souped-up SUVs, but if NASCAR wants to reflect what people are actually buying and driving, it's maybe not as far-fetched as it might sound.
NASCAR left the textbook definition of stock car racing behind long ago. Only the nameplates and noses of race cars and trucks in the three national series look like vehicles you can actually buy at a car dealer, and for both safety and competition reasons, that's not really a bad thing.
Still, NASCAR has long kept up the illusion of drivers taking hot laps in popular, well-selling cars. For the last few decades of the NASCAR Cup Series, this has meant whatever the top sedan model of the major car manufacturers has been.
The introduction of the Chevrolet Camaro and, starting next year, the Ford Mustang to the Cup Series level have come quickly because of a question stock car racing probably never figured it would have to answer: What if there are no sedans?
That would have seemed like madness even five to 10 years ago, but it's becoming a reality. Ford just announced that it is dropping all car models but the Mustang and Ford Focus Active hatchback from American dealerships, essentially banking entirely on SUVs and trucks — which will make up 90 percent of what it sells in the U.S. as of 2020. Chevrolet has already made moves in that direction as well, though not as drastically, cutting back on production of the Impala.
More from NASCAR
The car companies are doing that because what sells now are SUVs, trucks and the somewhat ambiguous crossovers, which are basically SUVs that have some car DNA. Pretty soon, there won't even be much of a "stock car" to speak of.
In all likelihood, that's probably not going to affect NASCAR all that much, because the switch to sportier models is already underway. Even if there are less car driving enthusiasts out there, the way to appeal to them is likely using the Camaro and Mustang anyway. It was always pretty silly to think of a Ford Fusion going 200 mph.
But if you'll allow us a little tongue in cheek fantasy for a bit, wouldn't the way to really appeal to the masses in terms of vehicles they might be weighing against each other to purchase be a NASCAR SUV Series? Just think of going fender to fender around Martinsville with a Chevy Equinox, Ford Escape and Toyota RAV4 going three-wide into the corner. That would be a true reflection of what fans might go into the dealerships to buy the week after a race.
Next: It sure sounds like Matt Kenseth might stick around NASCAR past this season
Okay, so maybe not. There's something that just wouldn't seem right about racing SUVs, though you might also have said that about pickup trucks at one point. NASCAR has always been about cars, first and foremost, and it likely always will be, even if we reach the point where cars as we've always known them really aren't around that much anymore. You'll just have to go to the track to see what you won't find out on the roads.