The depth of the 2018-19 Celtics will be staggering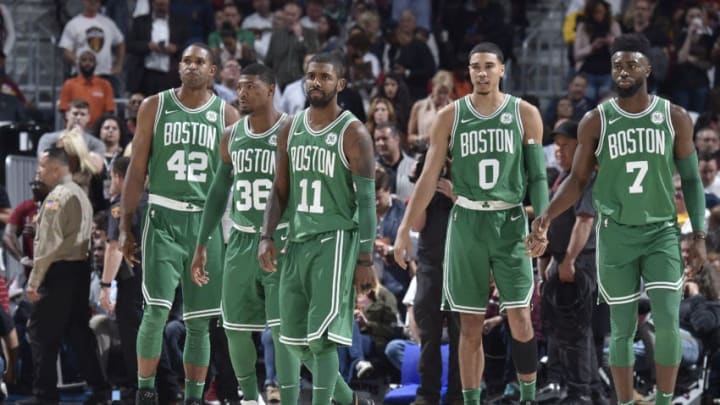 CLEVELAND, OH - OCTOBER 17: Al Horford #42, Marcus Smart #36, Kyrie Irving #11, Jayson Tatum #0 and Jaylen Brown #7 of the Boston Celtics during the game against the Cleveland Cavaliers on October 17, 2017 at Quicken Loans Arena in Cleveland, Ohio. NOTE TO USER: User expressly acknowledges and agrees that, by downloading and or using this Photograph, user is consenting to the terms and conditions of the Getty Images License Agreement. Mandatory Copyright Notice: Copyright 2017 NBAE (Photo by David Liam Kyle/NBAE via Getty Images) /
The Celtics have a handful of should-be starters who won't be starting this year.
How do you know when an NBA team has a lot of depth on its roster? When that team loses its two best players to injury, and still gets within a win of reaching the NBA Finals.
That's where the Boston Celtics were last season, cruising past the Milwaukee Bucks and Philadelphia 76ers in the playoffs, then pushing LeBron James and the Cleveland Cavaliers to seven games in the Eastern Conference Finals. And they did it without Kyrie Irving and Gordon Hayward.
When they get their two superstars back on the court for the upcoming season, just how good will this team be? When teams like the Golden State Warriors load their lineups with free agent superstars like Kevin Durant and DeMarcus Cousins, it's easy to overlook a team in the much weaker Eastern Conference like the Celtics.
But, truth be told, the Celtics have a roster with plenty of depth. With Irving and Hayward back, a handful of players worthy of being in the starting lineup will have no choice but to come off the bench.
"I think our all of our guys realize that we have a really good thing going," Celtics head coach Brad Stevens said on the Yahoo Sports NBA: Chris Mannix podcast. "Part of being on a team is all about understanding that there's nothing like experiencing winning together.
"We're fortunate enough on our team that we've got eight, nine, maybe 10 guys that are starters. So, we'll figure that out as the time comes."
Boston's starting lineup will most likely consist of Irving, Hayward, Al Horford, third-year player Jaylen Brown and second-year player Jayson Tatum. That means heading to the bench will be guys like Terry Rozier, Marcus Smart, Marcus Morris and Aron Baynes — guys who all played huge minutes for the Celtics in the 2018 playoffs.
It's a problem that many teams would love to have. If the players are all willing to contribute in their expected roles, then there is no limit to what the Celtics can accomplish this season.