25-under-25: For Giannis Antetokounmpo, the time is now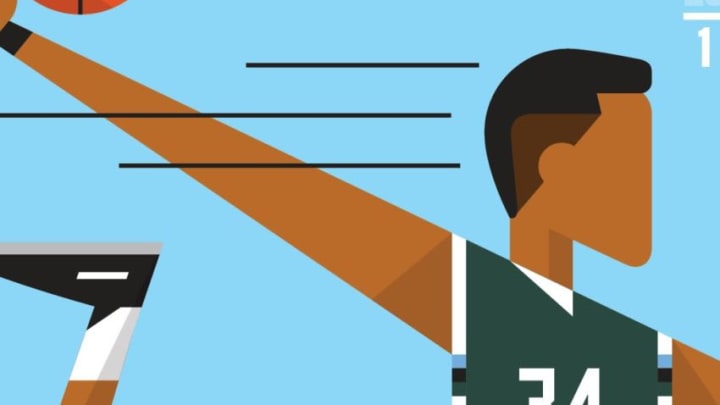 Art by Andrew Maahs -- @BasemintDesign /
The Step Back is rolling out its 25-under-25 list over this week. Follow along with our rankings of the top 25 NBA players under the age of 25.
Giannis Antetokounmpo was not supposed to be here. He was a skinny twig playing B-level basketball in old gyms across Greece. He entered the NBA as a smoothie-crazed project, and underwent an "American Food Tour" last year. However, in the minor media market of Milwaukee, the next great player has formed before our very eyes.
At 23-years-old, Antetokounmpo has cemented himself as one of the top players in the league, more than capable of going toe-to-toe with the likes of LeBron James, Kevin Durant, Anthony Davis and whichever opposing superstar lines up across from him.
Art by Andrew Maahs — @BasemintDesign /
The Milwaukee Bucks have nurtured him during every stage of his rise to superstardom, but the time has come for Antetokounmpo to cement his legacy. With James heading West, there's an argument to be made that he is now the best player in the entire Eastern Conference — a healthy Kawhi Leonard in Toronto is the only reason there would even be an argument.
The time is now for Antetokounmpo and his youthfulness can't be used as a crutch going forward.
Milwaukee seems to agree with this sentiment as they ditched the woeful Jason Kidd and handed the reigns of the team over to Mike Budenholzer. Coach Bud is a four-time NBA champion due to his 17 years with the San Antonio Spurs. He was named Coach of the Year in 2015 after leading the Atlanta Hawks to a franchise-record 60 wins.
Budenholzer has title aspirations and after moving on from Atlanta he had his choice of several jobs, but ultimately decided to tie his carriage to Antetokounmpo and the Bucks.
As a basketball player, there really isn't much more improvements that Giannis can make to his game — a 3-point shot would be nice, but he's coming off averaging 26.9 points per game, 10 rebounds per game, 4.8 assists per game, 1.5 steals per game, and 1.4 blocks per game with a 54.5 effective field goal percentage; a consistent 3-point shot would just be a cherry on top of the smoothie.
Yet, beyond just this season, life in the NBA is about to become drastically different for Antetokounmpo.
Even though LeBron has proven to be a cyborg, still in his prime after 15 seasons, there will come a time when James no longer holds the title of best player in the world. Alongside Davis, and Durant, Antetokounmpo is a logical successor to the throne whenever James' reign ultimately comes to an end.
Antetokounmpo has done the work in the gym to put himself in this position. A two-time All-star, and second team All-NBA selection, as well as 2017's Most Improved Player, there's certainly hardware to back up the platitutdes. However, this last leap from a superstar to THE superstar is a jump that could potentially be too big of a gap for his spider-like go-go-gadget limbs to cover.
Being the face of the entire league (he was the face of NBA 2k19 this year) is much different than being the best player on a team. On and off the court every move Antetokounmpo makes will be broken down in excruciating detail. The cute smoothie stories from his rookie year might not be treated as such if he's the world's best player and his team isn't winning.
Antetokounmpo has reached heights only few others have hit at such a young age. While his performance will continue to be heavily scrutinized, he's getting ready to embark on the next phase of his career. This time, spending hours in the gym or weight room perfecting his craft and body respectively won't be enough to hit the goals asked of him.
His next move is to transcend basketball and become a household name. Be the leader of the new school for the NBA. If he can, the league will be in very capable hands in the post-LeBron era.
This year's 25-under-25 illustrations are the work of Andrew Maahs of Basemint Design. You can follow on Twitter, @BasemintDesign.