James Harden's numbers only seem crazy if you never played NBA Jam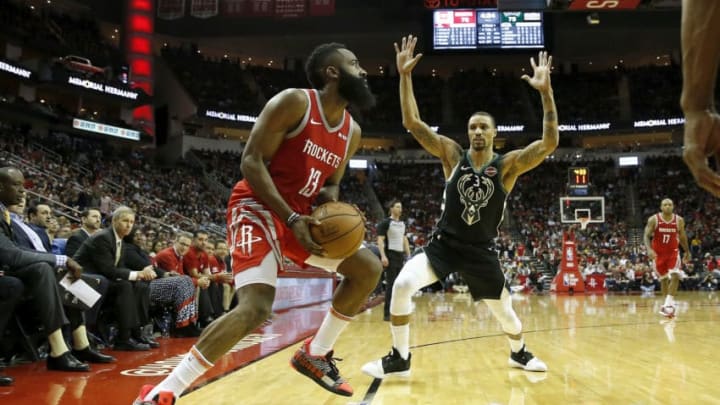 HOUSTON, TX - JANUARY 09: James Harden #13 of the Houston Rockets steps back for a three point shot defended by George Hill #3 of the Milwaukee Bucks in the second half at Toyota Center on January 9, 2019 in Houston, Texas. NOTE TO USER: User expressly acknowledges and agrees that, by downloading and or using this photograph, User is consenting to the terms and conditions of the Getty Images License Agreement. (Photo by Tim Warner/Getty Images) /
James Harden is currently putting up some eye-gouging numbers, such as averaging 18 3-point attempts per game so far in January. Here at Fastbreak Breakfast we aren't overly blown away, cause we grew up averaging 50 points per game with Terry Porter only launching threes in Bulls vs. Blazers on Super Nintendo. Or by refusing to take midrange jumpers in NBA Jam, knowing the key was to get exclusively dunks and threes. These lessons were ingrained in us by basketball video games 25 years ago, so why did it take so long for the NBA to realize 3 > 2?
On a brand new episode we cover that plus the following topics, both relevant and off the wall:
Will Giannis Antetokounmpo beaning Harden in the face play a crucial role in the Most Valuable Player race?
Have we been too quick to cross off the New Orleans Pelicans in the playoff race? Is Elfrid Payton the key to their success this season?
Which players have been getting away with the most travels, and are we bothered by officials frequently ignoring them?
Why are the Grizzlies more worried about having a mole than their losing record?
Are there any players left we want to see posting up?
Where does Steven Adams rank among the elite NBA centers?
What kind of "post-Thibodeau" boost will we see from the Timberwolves and how long will it last?
is a podcast for serious NBA fans that is incredibly not serious. All episodes are available on
and
or any other major podcast service.
Music provided courtesy of New Man and Codaphonic.
If you want to gain access to exclusive Fastbreak Breakfast bonus content including extra full episodes, go to Patreon.com/Fastbreakbreakfast.  We believe in supporting the content we enjoy and also building relationships with our biggest fans, and all of that is accomplished at Patreon.com/Fastbreakbreakfast.
At the very least, consider writing us a five-star review on Apple Podcasts!