Can Jerami Grant be the difference in the playoffs for the Thunder?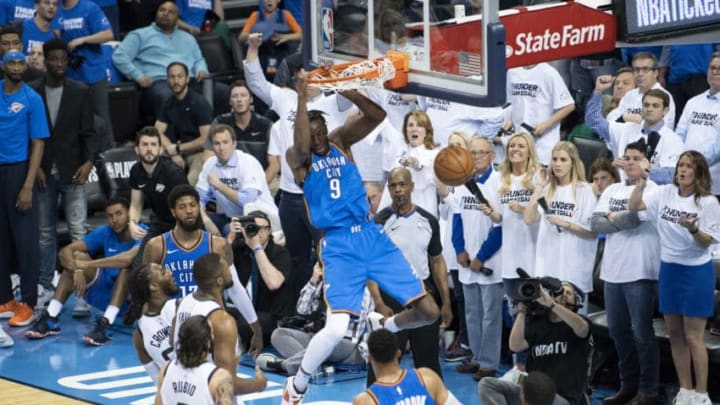 OKLAHOMA CITY, OK - APRIL 25: Jerami Grant #9 of the Oklahoma City Thunder dunks two points during game 5 of the Western Conference playoffs at the Chesapeake Energy Arena on April 25, 2018 in Oklahoma City, Oklahoma. NOTE TO USER: User expressly acknowledges and agrees that, by downloading and or using this photograph, User is consenting to the terms and conditions of the Getty Images License Agreement. (Photo by J Pat Carter/Getty Images) /
For years, Jerami Grant has oozed kinetic energy while straddling the line between reckless and resourceful chaos on the court. He is a subdued Tasmanian Devil and one whose gradually expanding offensive game felt integral to the Oklahoma City Thunder's ceiling at times. When the franchise cut bait with Carmelo Anthony this summer, Grant became a starter, a role he'd only undertaken in four games with the team prior to 2018-19.
Since then, he's produced a milestone season, helping lift the Thunder starting five to dominant heights (plus-13.6 net rating, second among 18 five-man lineups with at least 300 minutes together). Playing a career-high 32.3 minutes per game, Grant is averaging career-bests in points (13.1), rebounds, (5.1) and steals (0.9).
The most prominent new wrinkle in his game has been a serviceable outside jumper, connecting on 37.3 percent of his 3.1 3-point attempts per game — both career-highs. Slotting in next to Steven Adams, who's 0 of 6 from deep in his six-plus seasons, Grant now (semi-)comfortably operates as a floor-spacer at the 4-spot.
When defenders sag off to muddy up Russell Westbrook's, Paul George's or Dennis Schröder's forays to the tin, Grant nails corner 3s at a 39 percent clip:
Sure, he doesn't quite wield the gravity of some shooters and while forcing opponents to stay attached is often half the battle, he's still capitalizing at an efficient rate.
Even better, Grant is netting 35.6 percent of his above-the-break triples. He's capable of drifting out in pick-and-rolls, adding a dimension that fellow rim-runners Adams and Nerlens Noel don't offer. Doing so affords Thunder ball-handlers increased real estate as they steer inside, a particularly valuable commodity considering the team's dearth of shooters.
Grant is also displaying a functional handle, which lends itself to some dribble-drive action when he sniffs gaps in the defense:
Per Synergy, Grant has generated 1.18 points (91st percentile) on just 61 post-up possessions this season. He's thriving as a discretionary post player, punishing mismatches against undersized defenders:
Those types of half-court creation traits hold significant weight, especially as it pertains to his potential playoff effectiveness. Grant excels in transition (1.274 PPP, 81st percentile) — emblematic of his internal magnet for chaos — but in the postseason, fewer shots are missed to spark fast breaks. Offenses are crisper. Frenetic sequences dry up. Teams will often try to run role players like Grant off the 3-point line or hide smaller defenders on him, reserving rangy wings for stars (i.e.: Westbrook and George). But Grant is too skilled at this point to merely fade into the background and disappear.
If guys completely sell out to eliminate his spot-up 3s, he's dexterous, explosive and lanky enough to score off the bounce. If smaller guards are matched up with him, he'll take them down to the block and make opponents pay, once tricked into thinking his low-usage offense was of little concern.
Whereas the fifth-year wing's offense has slowly crept up to respectable levels, it's long been his defense that's enabled him to carve out a rotation spot with the Thunder. Despite measuring at just 6-foot-8, Grant brandishes a 7-foot-3, condor-like wingspan. There aren't many (if any?) undersized power forwards with the length to protect the paint at a near-elite rate but Grant is one of them (the only one?).
Among 63 players with at least 200 shots defended at the rim this season, Grant ranks 13th in defensive field goal percentage (54.2). As an off-ball roamer and interior help defender, he is one of the league's best. With Adams regularly hedging pick-and-rolls and lacking the top-tier footspeed to always contain guys, Grant acts as a safety net on the backline. He trampolines into plays, swatting 1.4 shots a night:
Sporting a plus-2.3 Defensive Impact Plus-Minus, which ranks 13th league-wide, he isn't just a paint enforcer who struggles to switch across positions. Utilizing outlier length and lateral quickness, Grant tethers himself to ball-handlers. Some versatile defenders are long but within the context of NBA athletes, their reach doesn't resonate. Grant is freakishly long, though, and his atypical wingspan means he can do things like this against star wings:
Fueled by a budding offensive arsenal and near-All-Defensive-caliber chops, Grant has the outlines of a terrorizing small-ball five in the playoffs. Last regular season, Oklahoma City was plus-7.9 in 557 possessions with Grant at center, according to Cleaning the Glass. This year — as Noel absorbs most of the backup center minutes — that lineup construction has only made an appearance for 54 possessions and yielded a plus-3.1 net rating.
He's a snug fit in head coach Billy Donovan's aggressive pick-and-roll defense, can guard multiple positions and stretch the floor offensively. The primary drawback is his slender frame, which could potentially be problematic against brutes like Nikola Jokic, Jusuf Nurkic and DeMarcus Cousins. But limiting those dudes is Adams' responsibility. Grant's competition for time at center behind Adams is Noel, who also boasts a gangly build, though lacks an offensive package beyond snagging lobs.
Both are impactful defenders with similar flaws on that end; Grant is just a considerably better player overall. Increasing his run at the 5-spot come playoff time could elevate the Thunder past first-round fodder. Let Grant-at-center units feast against backup bigs who aren't capable of being offensive hubs or bullying him inside.
George's MVP-worthy campaign is deservedly garnering much of the praise for his team's growth this season, though it isn't the only factor. The once-erratic Grant has sprouted, no longer teetering between reckless and resourceful chaos. He's simply a livewire of the greatest variety.
All stats are accurate prior to games on Feb. 21.