War Raiders renamed The Viking Experience because Vince McMahon felt like it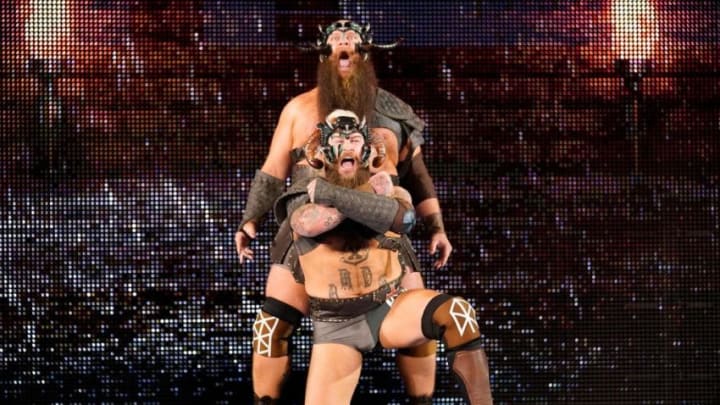 Photo via WWE.com /
The famous whims of Vince McMahon are to blame for The Viking Experience.
One of the most shaken-up things about this week's WWE Superstar Shake-Up was the call-up of NXT Tag Team Champions, the War Raiders, and their new names. No longer Rowe and Hanson, no longer even the War Raiders, the team is now going to be called The Viking Experience  (with the names Erik and Ivar) on Monday Night Raw going forward.
Needless to say, the WWE Universe roundly and soundly roasted the name-change online. And fans also wondered what, exactly, prompted the repackaging. Was it trying to get the word "War" off of network television, in deference of sponsors?
It appears it was merely a whim of Vince McMahon.
The WWE chairman made a last-minute decision to rid the War Raiders of the moniker they've been using for a year-plus in NXT (and which was itself an adaptation of the War Machine name they had gone by in Ring of Honor and New Japan), according to the Wrestling Observer (h/t to Brandon Stroud at With Spandex for transcribing):
"There's nothing to do with "war," Vince just wanted to change the name, that's all. He didn't like "War Raiders" and he wanted to change the name. That's all there is to it. There's no other reason. Vince just on the day of the show, on Monday, decided he didn't like the name and told them to come up with a new one."
According to Mike Johnson at PWInsider.com, the first choice for the rename was "The Berzerkers," "but it changed as they moved closer to debuting." Meanwhile, on this week's episode of NXT TV, the War Raiders appeared backstage — wearing "War Raiders" t-shirts, of course — and were referred to by commentary as both the "War Raiders," and "The Viking Experience," which only makes matters more confusing. And that's on top of not knowing what will come of the team's NXT Championship.
Name-changes aren't uncommon in the world of WWE, but of late it's mostly been done as a matter of expediency, cutting off first or last names of two-named talent (Mustafa Ali is now Ali, Alexandr Rusev is now Rusev, Antonio Cesaro is now Cesaro and so on). Less rare is the wholesale repackaging of established WWE talent, such as what has happened with War Machine becoming The Viking Experience.
But, it's possible given the wholesale negative reaction that the new name could not stick around for long. We'll have to wait until Monday's episode of Raw to see if McMahon has changed his mind again.