Pascal Siakam goes off as the Raptors beat Magic in Game 3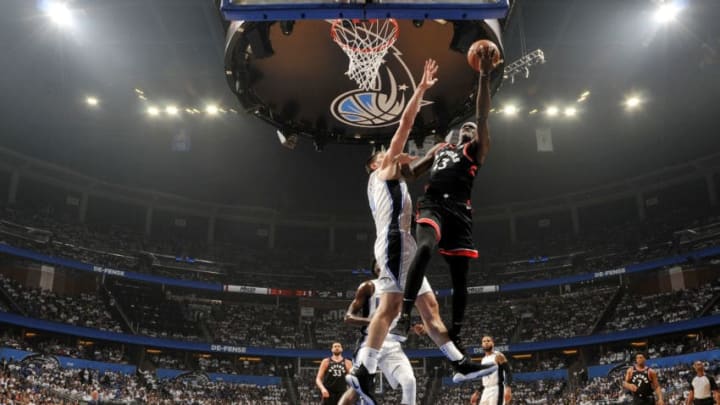 ORLANDO, FL - APRIL 19: Pascal Siakam #43 of the Toronto Raptors shoots the ball against the Orlando Magic during Game Three of Round One of the 2019 NBA Playoffs on April 19, 2019 at Amway Center in Orlando, Florida. NOTE TO USER: User expressly acknowledges and agrees that, by downloading and or using this photograph, User is consenting to the terms and conditions of the Getty Images License Agreement. Mandatory Copyright Notice: Copyright 2019 NBAE (Photo by Fernando Medina/NBAE via Getty Images) /
Pascal Siakam became the first Raptors to put up a 30-10 playoff line since Chris Bosh, as the Raptors held off the Magic in Game 3.
The first-round series between the Raptors and Magic has been one of the most competitive in this postseason and Game 3 was no exception with a tight contest that went right down to the wire. The Magic pushed but, unlike Game 1, couldn't make enough plays down the stretch to leap past the Raptors.
Game 3 was (another?) coming-out party for Pacal Siakam, who paced the Raptors with 30 points, 11 rebounds and 4 assists. He was everywhere on every possession, hitting 3s, crashing the glass, slipping through seams in the defense to find space around the rim or running out in transition.
Takeaways
The Magic were finally able to get Nikola Vucevic going, but it was too late. Vucevic had been an obvious problem for Orlando through the first two games but he finally broke through for 22 points, 14 rebounds and 6 assists in Game 3. He did a lot of his damage with Marc Gasol off the floor but simply building confidence was important. The problem is, Orlando now finds themselves in a 2-1 hole and just one more game at home before they head back to Toronto.
Siakam vs. Jonathan Isaac should be fun for years to come. While tonight was Siakam's night, Isaac was incredible in the first half, helping inject energy into a Magic attack that desperately needed it. He shot just 4-of-11 from the field but hit a pair of big 3-pointers and finished with 14 points, 7 rebounds, 2 steals and 2 blocks.
Isaac is a year or two behind Siakam on the developmental curve but you can already see the outlines of a fantastic personal rivalry over the next few years if both of these teams stay relevant.
Where would the Raptors be without Pascal Siakam? He was enormous in this game, not just the sum total of his points and rebounds but his ability to make momentum-shifting plays and repeatedly turn nothing into something, like his driving layup with a minute left and the shot clock running down. The Raptors might very well find themselves down 2-1 in this series but if he hadn't grown into this tier of player, the Raptors might not be here at all. For as good as Kawhi Leonard has been and as much as he raises the ceiling on this team, Siakam has been as big a difference as anything else between this season and last for Toronto. By ESPN's estimation, he's been worth nearly 12 wins more than a replacement player this season. That's the difference between the No. 2 seed in the East and being a sub-50-win team in the bottom half of the playoff bracket. Siakam has changed this team and my guess is we're going to see more of this before the playoffs end.