Fans react to Carolina Hurricanes beating reigning champs Washington Capitals in double OT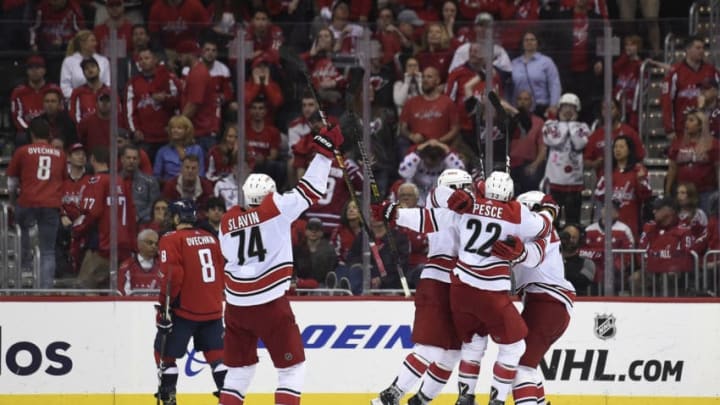 WASHINGTON, DC - APRIL 24: Brock McGinn #23 of the Carolina Hurricanes celebrates with his teammates after scoring the game winning goal in the second overtime period against the Washington Capitals in Game Seven of the Eastern Conference First Round during the 2019 NHL Stanley Cup Playoffs at Capital One Arena on April 24, 2019 in Washington, DC. The Hurricanes defeated the Capitals 4-3 in the second overtime period to move on to Round Two of the Stanley Cup playoffs. (Photo by Patrick McDermott/NHLI via Getty Images) /
Fans react to Carolina Hurricanes beating reigning champs Washington Capitals in double OT.
Of all the crazy upsets in the NHL playoffs this season, and there was a lot, this one might be the most unexpected. The Carolina Hurricanes haven't made the playoffs in nine years, but finally broke that streak with a season full of "jerks."
Their reward for finally making the playoffs? The defending Stanley Cup Winners the Washington Capitals. It looked like it would be a quick return to the postseason for the Hurricanes, but here we are, Game 7, and Mr. Game 7 Justin Williams is now on the Hurricanes.
The Canes came out on top in double overtime when a pass across the ice from Justin Williams was tipped in by Brock McGinn just passed the 90-minute mark of the game. This wasn't a hockey game, this was a soccer match that went into stoppage time.
Obviously, with such an emotional ending for the fans of Carolina, they had quite the reactions.
Yes, this is the Hurricanes official Twitter account, but this is some A-level stuff right here. Not only did they make a timely reference (Game of Thrones), not only did they take a second out of celebrating to make a quick joke, but they did it at the expense of their direct opponent. They also had another tweet where Thanos of Avengers fame snapped to make half the NHL Playoffs field disappear. Great job Canes Twitter team.
Of course we have to see what's happening in Raleigh. People are lining the streets, doing the usual Hurricanes clap at the end of the win, waiting for a storm surge. They did not get it, but they did watch the Hurricanes win their first game on the road all series, in Game 7. What a time to get it done.
I'm assuming by this person's Twitter name, that they teach math. Maybe Clark you could just let the students take a nap in your class since they surely lost sleep thanks to this epic ending. Or, like many math classes, just write on the board and we'll pretend to listen. Best thing you could do? Tie in a probability lesson into how small a chance the Canes were given to win.
https://twitter.com/alt_PastaTits/status/1121262097957097473
Not specifically a Canes tweet, but clever enough to make this list. Sorry Ovi, maybe you can still have a four-month bender just for the fun of it.
This pretty much sums up all of Canes Twitter right now. Lots of screaming, a little bit of crying, and a whole lot of happiness. This is what happens when you have to wait through more than one full overtime to get the desired result.
This one just seems cruel. (Note: not sure if this is 100% true, as the Metro did say they would stay open, but that was at the end of regulation). Imagine being one of the many fans who came to the game in the Caps jersey, ready to see their team continue defending the Stanley Cup, only to lose four hours later, then you realize your ride home is gone? So now, after losing, you have to decide between paying a massive surge fee for an Uber, or wander the streets aimlessly looking for a solution to the meaning of life.
This was another amazing game to watch, and now we officially start round two! Although, we don't think it has any chance of matching this kind of craziness.