Indebted series premiere live stream: Watch online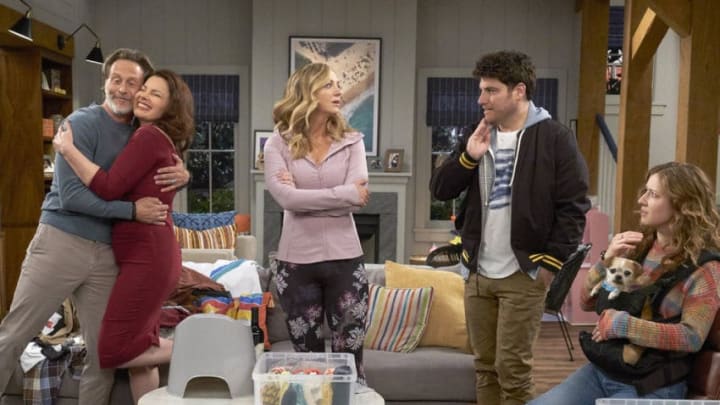 INDEBTED -- "Pilot" Episode -- Pictured: (l-r) Steven Weber as Stew, Fran Drescher as Debbie, Abby Elliott as Rebecca, Adam Pally as Dave, Jessy Hodges as Joanna -- (Photo by: Trae Patton/NBC) /
Wondering how, when, and where to watch the series premiere of Indebted starring Fran Drescher? Don't worry, we've got you covered!
NBC is known for producing some of the best family sitcoms to have ever graced a TV set. And now, they will be flipping the script on the "moving back in with your parents" dynamic with two television veterans to steer the ship in the brand new series Indebted.
Starring in this hilarious family comedy is Fran Drescher. Audiences remember Drescher and her wicked laugh from the hit series The Nanny. Now, she returns to the small screen along with Wings actor Steven Weber. The two play a couple who were beginning to enjoy having the kids out of the house. But then they go broke and have to move in with their son and his family.
From the looks of the trailer, there will be no shortage of heartfelt laughs and sidesplitting shenanigans for fans to enjoy during the show's first season. All signs point to this being another great addition to NBC's already impressive library of content. Indebted is one comedy viewers will not want to miss.
Below is all the information you need to watch Indebted live on TV or online.
Here is how NBC officially describes the series:
"Young parents Dave and Rebecca are ready to reclaim their lives after years of diapers and sleepless nights. However, things take an unexpected turn when Dave's parents show up unannounced and broke, leaving Dave with no choice but to open the door to the two people who gave him everything. But these boomerang parents aren't great with boundaries, and the question of who's parenting whom quickly becomes blurred."
And here's how you can watch Indebted:
Date: Thursday, Feb. 6
Start Time: 9:30 p.m. ET
Episode: "Everybody is Talking About the Pilot"
TV Channel: NBC
Live Stream: Watch live on Fubo TV. Sign up now for a free seven-day trial. You can also watch on the NBC website or app.
For the latest Indebted spoilers and news, plus more on everything happening in TV, follow the Television category at FanSided.