Meg Donnelly really wants to find out what's up with Addison's hair in Zombies 3
Meg Donnelly is the breakout star in Disney Channel's Zombies, and FanSided talked to her about that, American Housewife and more.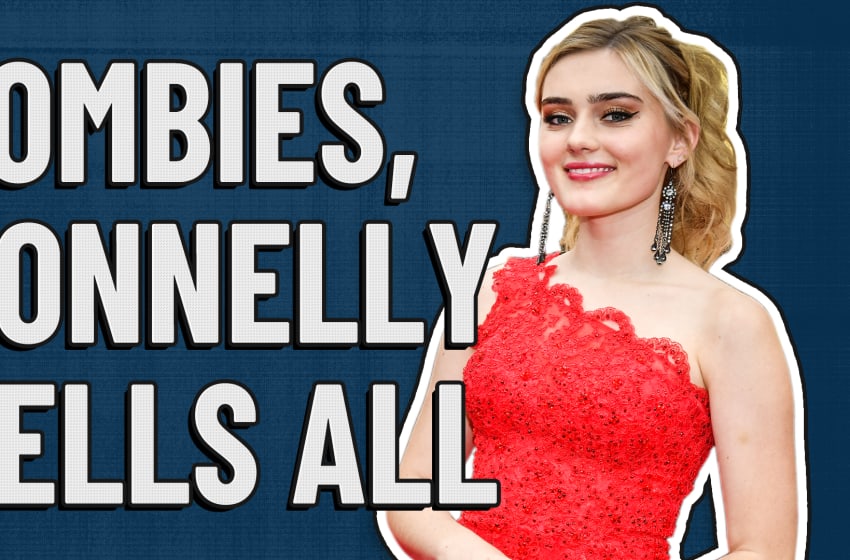 What do zombies and an American housewife have in common? Not much. But if you look at Disney Channel's immensely popular Zombies movies and ABC's hit television show American Housewife, you'll find one star at the center of it all: Meg Donnelly.
In Zombies, which currently aired its sequel Zombies 2 in February, Donnelly plays Addison — a cheerleader who attends a high school with (you guessed it) zombies. There's music, dancing and romance galore, and it easily seals itself in as one of the great, new Disney Channel original movies.
In American Housewife, Donnelly plays daughter Taylor Otto, the typical (and not-so-typical) teenage girl trying to figure out life in and after high school. And outside of that, at 19 years old, Donnelly's got a blooming music career — having already released an EP, Trust, just last year.
FanSided got the chance to catch up with Donnelly on Skype to hear more about her time working on Zombies and American Housewife — as well as what's in store for her next.
Working on Zombies
Disney Channel is notorious for putting out some of the best movies to define a generation — musicals included. '90s and '00s kids favor The Cheetah Girls and High School Musical. Slightly younger crowds vibe with Camp Rock and Lemonade Mouth. And the current generation has the likes of Descendants and Zombies to fuel their musical hearts.
For Donnelly, it was amazing to be a part of this musical family, saying High School Musical, in particular, was a huge favorite of hers growing. "I had all the merch, I saw it on ice. Like, you name it, I saw it," Donnelly told FanSided. It was something she called completely surreal, to be a part of Disney Channel history and getting to do not one but two movies.
Starting with the first movie, Donnelly admitted she and the cast didn't know what to expect. But coming back the second time, everyone was comfortable and acclimated to things, saying that everyone became like family in a matter of two days. That rapport, of course, showed on screen with her in the company of her fellow cast, including Milo Manheim as Zed, Trevor Tordjman as Bucky, and Kylee Russell as Eliza — culminating in some seriously fun musical numbers throughout the two movies.
The most fun scene for her in Zombies 2, then, had to be "All For One" because of everyone involved. Not only because they got to wear prom dresses for two days straight, as she recalled, but also because of the fun they had off-screen. What you didn't see in the movie was the cast having playful rap battles and dance-offs between takes. Donnelly, though, did have one moment of panic when it came to shooting "Flesh and Bone."
As she describes it: "There's one part where Zed comes in the middle and then it's Zed, Eliza, and then I, and then I was supposed to be a part of that. So five minutes before we started filming, they just taught me the choreography, and I was screaming. I was like, 'Ah!" I was so stressed." But despite that small moment of panic, it was still one of her more fun moments of getting to be on set.
So what's next for Addison? Well, the sequel left us on quite the cliffhanger regarding Addison's very magical hair. It's white, it glows… and it opens up a range of possibilities for a Zombies 3 movie.
Donnelly said she wishes she knew what was up with Addison's hair, so that makes more than one of us left in the dark about what's going on. At the same time, if/when Zombies 3 happens, she wants to see one or two things: "I really want Zed and Addison to have like a 'Singin' in the Rain' moment where they have a five-minute dance break in the rain," she revealed. And if not that: "I want to see Bucky have a full dance solo because Trevor can dance!"
Being part of American Housewife
Taking things from being a supernatural high school girl to a regular high school girl, Donnelly in American Housewife plays daughter Taylor Otto. This follows the life of the Otto family and fun mom Katie (Katy Mixon), your typical American family who make do with living in the pretentious Westport, Connecticut.
The show debuted in 2016, giving Donnelly an almost four-year run on the show so far. Speaking on her cast and crew, she revealed how being a part of the show for four seasons has bonded everyone together: "That's probably the craziest part is just seeing how much everybody changes and how we're really like family… all the crew has stayed the same on American Housewife. So for four years, all the camera guys, prop people, [the] directors they rotate are all the same for the most part — so it's all the same people. So it's just like going home every day. It's amazing."
And for Taylor, Donnelly says she's seen a lot develop with the character over the course of the four seasons. "I mean, when we started, she was a jock. She played like three sports. And now she is auditioning for Carnegie Mellon, which is like a theater school. So she has definitely changed, which I think a lot of kids do in high school if they find their path. So it's definitely relatable."
The show will continue airing its fourth season Wednesday nights on ABC, and fans will get to see how Taylor continues to grow as she breaks out of her shell and pursues her passions.
Taking her music to the next level
Being a part of Zombies wasn't Donnelly's only experience with Disney. She's also been named Radio Disney's Next Big Thing, sharing the honor with past recipients like Shawn Mendes, Alessia Cara, and Camila Cabello. With that, one of the biggest OMG moments in her music career, as she described, was due to Radio Disney.
"Performing at the ARDYs is pretty crazy. Because… when I was younger, Radio Disney was huge for me. So the fact that I'm involved with Radio Disney in any way, shape, or form is crazy. But to perform at the ARDYs with Fetty Wap, like 'What!' If you told me that when I was like,12 [or] 13, I would start crying. It's crazy; it's so surreal."
The release of Trust won't be her last venture into music. Donnelly said: "Once everything is kind of up and running, I want to go to the studio more and just work on songs and keep finding my sound because it changes, like, all the time still!"
---
Look out for Meg Donnelly on ABC's American Housewife airing Wednesdays at 9:30 pm ET.