Seattle could host the 2021 NHL Draft before its inaugural season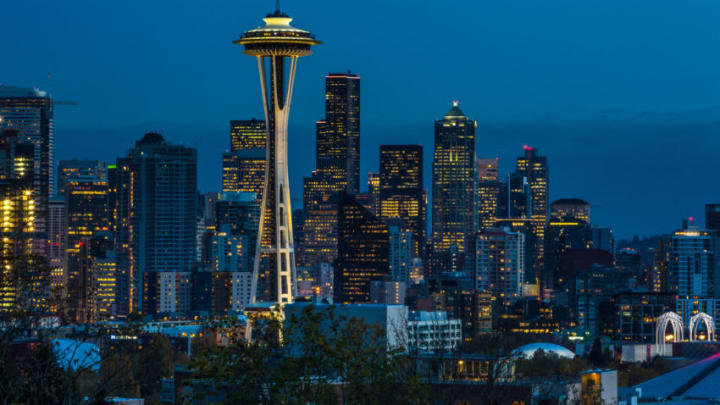 SEATTLE, WA - NOVEMBER 4: The sun sets on the Space Needle and downtown skyline as viewed at dusk on November 4, 2015, in Seattle, Washington. Seattle, located in King County, is the largest city in the Pacific Northwest, and is experiencing an economic boom as a result of its European and Asian global business connections. (Photo by George Rose/Getty Images) /
The 2021 NHL Draft may head to Seattle ahead of the team's first year as the league's 32nd team during the 2021-22 season.
Seattle is set to take the stage as the NHL's 32nd club in 2021, but the league may have a generous welcome party waiting for them before they step out onto the ice. According to TSN's Pierre LeBrun, Seattle has shown an interest in hosting the 2021 NHL Draft, which would be paired with the league's expansion draft for that season.
The NHL was reportedly set to head to Seattle within the next few weeks to discuss the matter, but the coronavirus pandemic has since halted those talks for the time being.
This report comes less than a week out from the NHL's decision to postpone the 2020 NHL Draft, the awards and the combine due to the pandemic. Montreal was set to be the host of the 2020 draft, but will reportedly either hold next year's should things fall through with Seattle or the 2022 draft.
There are a few potential holdups with the Seattle bid for next year, as arena and hotel availabilities may not be sufficient for what the NHL needs to host the event.
However, if all goes well and Seattle can hold the 2021 draft in their city, it offers the franchise a great opportunity to show themselves off to the league. Packaging the expansion draft alongside the actual draft is a solid way to get the hockey world excited about the Seattle franchise, and hosting it in the city will be a great sneak peek of what will be to come for the 2021-22 season.
Though the city does not have a name chosen for its franchise as of yet, fans of the team would likely relish the opportunity to cheer for their team before they take the ice that fall, if everything comes together.
Follow FanSided NHL for more news, analysis, opinion and unique coverage about hockey in all forms throughout the entire 2019-20 NHL season and beyond.