Vikings owners emerge as candidates to buy Timberwolves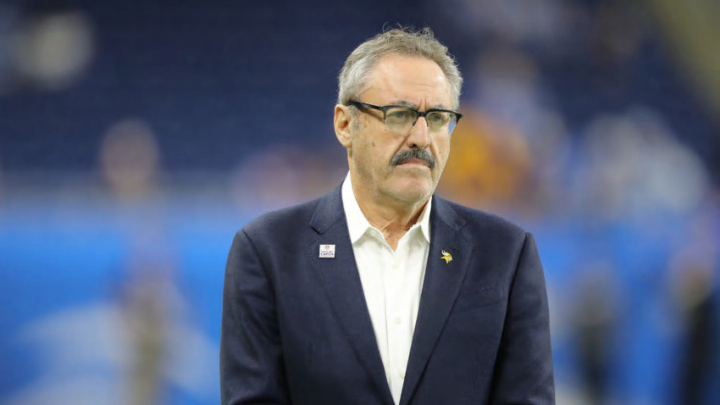 DETROIT, MI - OCTOBER 20: Minnesota Vikings owner Zygi Wilf looks on during warm ups prior to the start of the game aganist the Detroit Lions at Ford Field on October 20, 2019 in Detroit, Michigan. (Photo by Rey Del Rio/Getty Images) /
The Vikings ownership group is considering buying the Timberwolves.
News dropped Tuesday that Minnesota Timberwolves owner Glen Taylor is exploring a sale of his team. This reportedly drew interest from Timberwolves legend Kevin Garnett and there is a new suitor out there as well.
That is the Wilf family that already owns the Minnesota Vikings. The family may be looking to build its Minnesota empire by acquiring the top basketball ticket in town.
The Vikings and Timberwolves could become one
This seems like a no-brainer for the Wilf family if the money is there. Fans of the Timberwolves should also be eager for change considering the team has made the playoffs one time since the 2003-04 season.
Meanwhile, the Vikings have shown a commitment to spend in order to compete, even if a lot of money spent on Kirk Cousins wasn't the best idea. Having a sports owner with a proven resume of winning could easily boost the Timberwolves back to a level seen when Garnett was a part of the team.
The idea of Garnett being part of an ownership group is exciting. However, he would not likely be the lead member and the Wilf family has the money to buy the team as majority owners. Garnett could even come aboard in some capacity as there would be no ill will between either side.
This remains a developing situation and any change is good news for Timberwolves fans. Getting Garnett in an ownership sounds like the dream scenario. The Wilf family getting control sounds like a more plausible scenario before other suitors emerge.
Taylor has made it clear he doesn't want to sell to anyone interested in moving the team out of Minnesota. The Wilfs seems like the perfect candidates with plenty of money and a clear reason to keep the Timberwolves in town for years to come.