Cubs vs. Marlins Game 2 postponed due to weather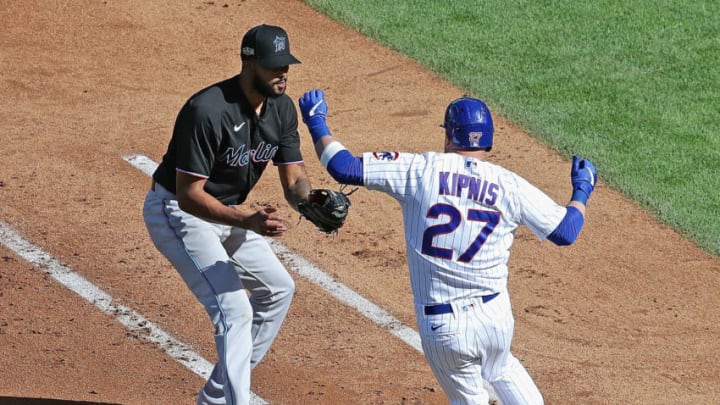 CHICAGO, ILLINOIS - SEPTEMBER 30: Sandy Alcantara #22 of the Miami Marlins readies to tag Jason Kipnis #27 of the Chicago Cubsin the first base line in the 5th inning during Game One of the National League Wild Card Series at Wrigley Field on September 30, 2020 in Chicago, Illinois. (Photo by Jonathan Daniel/Getty Images) /
The Cubs will have to wait another day to seek revenge against the Marlins with Game 2 being postponed due to inclement weather in the area.
The Chicago Cubs were dealt quite the shocking loss Wednesday. The young Miami Marlins showed up at Wrigley and did not look worried at all, taking home a 5-1 victory.
The division-winning Cubs are now facing elimination and Game 2 was set for Thursday afternoon. Unfortunately, the impending weather in Chicago has pushed the game to Friday. Game 3, if necessary, will be on Saturday, with that game time to be decided.
The Cubs and Marlins get an extra day of rest
Potentially finishing the series on Saturday is not a terrible thing as the NLDS is not set to begin until Tuesday. The winner does have to travel to Texas as the MLB is using a bubble format, but making the trip a day later shouldn't be a problem.
The extra day off gives the Cubs some time to reset after Wednesday's loss in which the offense managed only four hits. A 1-0 lead heading into the seventh inning was not a wide enough margin for the pitching staff and the Marlins scored five runs all via the long-ball to take the commanding 5-1 lead. It could also mean Kyle Hendricks is in play to pitch some innings if needed in a potential Game 3.
Anthony Rizzo and Kris Bryant combined to go 0-8 with three strikeouts in what could be the core's final series together. Game 2 could be the final game fans see all these players together, so there should be an added sense of urgency.
The Marlins, meanwhile, have nothing to lose. This is the third time the franchise has made the MLB postseason and both previous appearances ended with World Series banners. The 2020 Marlins are off to quite the good start to continue the tradition.
Game 2 is now on Friday and Yu Darvish remains the scheduled starter. But Chicago can only win if the offense actually shows up this time.