Twitter in shock after seeing Nick Boyle's scary injury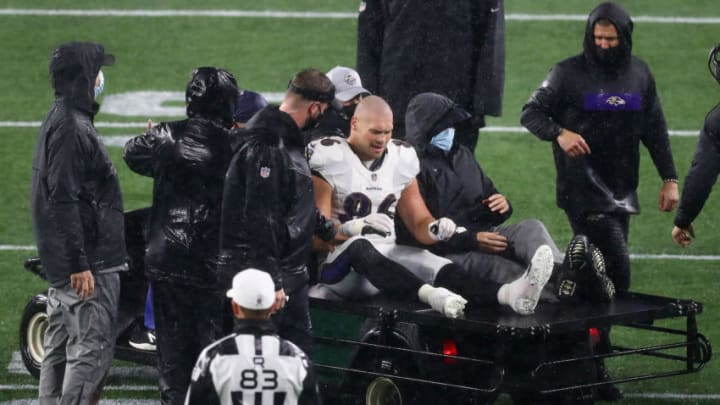 FOXBOROUGH, MASSACHUSETTS - NOVEMBER 15: Nick Boyle #86 of the Baltimore Ravens leaves the field on a cart after being injured during the second half against the New England Patriots at Gillette Stadium on November 15, 2020 in Foxborough, Massachusetts. (Photo by Adam Glanzman/Getty Images) /
That certainly isn't something anyone wants to see 
The Baltimore Ravens need to get things clicking on offense for Sunday Night Football. With a 23-17 lead for the New England Patriots nearing the end of the third quarter, Baltimore's AFC North title chances are falling faster than the rain at Gillette Stadium.
However, there's a bigger loss for Baltimore moving well beyond Sunday night.
Tight end Nick Boyle was carted off with a leg injury during the middle of the third quarter. Trying to go down, a pair of Patriots defenders sandwiched the pass-catcher, seeing him crumble to ground and immediately asking for attention.
Meanwhile, Twitter took to the airwaves to let the world know how they felt on the play. Let's just say, they all agree it wasn't pretty.
Twitter reacted accordingly to Boyle's injury
First, naturally there was a video of the hit that made most fans fee queasy.
One word is enough to describe what the play truly looked like live
Not even the Patriots players wanted to watch what was happening
A hard worker in practice, one can't help but feel for the tight end on what likely isn't promising
Even rivals put down their arms to wish Boyle the best as he headed for further testing
Some are already saying Boyle's season is over before the MRI test. They have a point.
Let's be real though, the worst has be having to be helped out while sitting in the cold rain
Boyle has been a quality No.2 tight end for Lamar Jackson in the passing game this season. Through nine games, the 27-year-old complied 13 catches for 109 yards and two touchdowns. On Sunday, he hauled in the one reception for a four-yard gain.