Yermin Mercedes has awesome new nickname after latest home run (Video)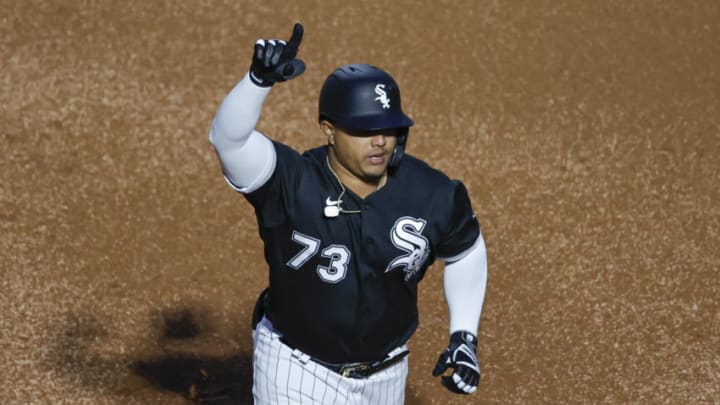 White Sox catcher Yermin Mercedes. Mandatory Credit: Kamil Krzaczynski-USA TODAY Sports /
Chicago White Sox rookie Yermin Mercedes is the breakout star of the 2021 season. He also has an awesome nickname to boost his stardom.
It takes more than being great to become a sports icon. You need an aura. A swagger. Or a rocking nickname.
Yermin Mercedes has one for the ages.
The 28-year-old sensation is known as "The Yerminator." You won't be forgetting that nickname any time soon if he keeps hitting like this.
That was Mercedes third home run of the 2021 season and a welcome sign for White Sox fans that he hasn't hit the wall after a scorching start.
Yermin Mercedes has earned his nickname by destroying pitchers
In the first six games, the DH and catcher had 15 hits and set a host of Chicago records on the way. There wasn't a pitcher he couldn't best. However, things slowed down over the last three games. He had just one hit across three games.
Clearly, that had more to do with circumstances than his bat going cold. He was walked three times in the final game against the Royals and only made one plate appearance in the second game against the Indians, which Chicago lost.
Through three innings against Cleveland on Wednesday night, Mercedes had two hits and three RBI. His league-leading batting average of .485 isn't in danger of slipping.
The White Sox are 5-6 and sitting fourth in the AL Central, but they're only 1.5 games out of first place. They'll be closer with a win in the books over the Indians. They need Mercedes to keep up the momentum as they battle in the intensely competitive division.
With this kind of output from Mercedes, apparel companies have every reason to jump on the Yerminator bandwagon. The nickname plus the hits equal marketing gold.