Braves organist trolls Alex Bregman, which immediately backfires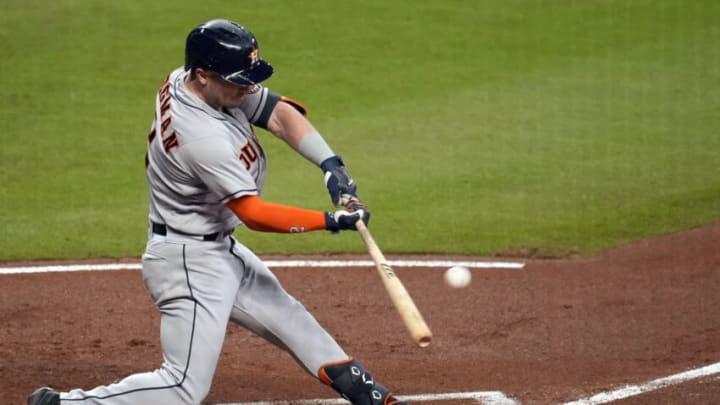 Oct 31, 2021; Atlanta, Georgia, USA; Houston Astros third baseman Alex Bregman (2) hits an RBI double against the Atlanta Braves during the second inning of game five of the 2021 World Series at Truist Park. Mandatory Credit: Dale Zanine-USA TODAY Sports /
The organist for the Atlanta Braves trolled Houston Astros third baseman Alex Bregman during Game 5 of the World Series, but it backfired. 
The Houston Astros are in unenviable territory, as one more loss will allow the Atlanta Braves to win their first World Series title since 1995. With the team entering Game 5 down 3-1, Astros manager Dusty Baker made some changes, including sending the struggling Alex Bregman to the No. 7 spot in the batting order.
In the top of the second inning, Bregman stepped up to the plate with two runners on base. The organist at Truist Park decided to troll the third baseman by playing the song "Free Fallin" by Tom Petty.
Bregman immediately made the organist regret their decision, as he hit a double off Braves pitcher Tucker Davidson, allowing Yuli Gurriel to score. That play helped the Astros cut their deficit to 4-1.
Alex Bregman makes Braves organist pay for troll attempt
Yeah maybe wait until Game 5 is totally out of reach before deciding to make fun of Bregman for "free fallin" down the lineup.
The inning only got better for the Astros, as catcher Martin Maldonado hit a sacrifice fly to center field, allowing Kyle Tucker to score, cutting Atlanta's lead to 4-2.
Entering Game 5, Bregman went 1-for-17 at the plate, where he knocked in one run and struck out five times in the first four games of the Fall Classic. That included what turned out to be a horrendous Game 4 on Saturday, where he went 0-5 in the batter's box, striking out twice.
The Astros want to bring the World Series back to Houston for Game 6, but they will have to find a way to beat the Braves on their home field on Sunday night.