Tyler Cameron reveals the best and worst part of dating in New York City
FanSided caught up with Tyler Cameron to talk dating in New York City, Hannah Brown's new book and his partnership with Heineken.
Tyler Cameron has certainly made a career for himself after his time on The Bachelorette. The former contractor from Florida came in as runner-up on Hannah Brown's season in 2019, and has since moved to New York City and is snatching up partnerships and social media deals left and right.
And that's not all. Alongside best friend and former Bachelor Matt James, Tyler founded ABC Food Tours, a program to help New York City students, and just this year he released his first book titled You Deserve Better: What Life Has Taught Me About Love, Relationships, and Becoming Your Best Self.
FanSided spoke with Tyler ahead of the UBS Arena's grand opening on Nov. 20, where the reality star served as bartender at the Heineken Terrace Bar before the New York Islanders game. He shared how "excited" he was to be part of such a "historical night," explaining:
"[I'm a] big-time beer fan and I love a good live hockey game. I'm from South Florida, so we don't really have the best hockey. I'm excited. This is my first New York hockey game so I'm excited to see the energy."
As the official beer partner of UBS Arena, Heineken will be there to create memorable fan experiences across music, sports and entertainment.
Tyler Cameron on dating, Hannah Brown and Heineken
Given Tyler has kept busy with all of his career ventures in New York City these past couple of years — including an appearance on Saturday Night Live — you would think the 28-year-old would be a total city expert. But he still admits he's still a "rookie" when it comes to the Big Apple.
And when it comes to his romantic life, things are a little different in the city now that he's a celebrity with 2.1 million Instagram followers. When asked what the best and worst part of dating in New York is, Tyler shared:
"The worst part is that, I think for me, I get nervous about everyone being around all the time and documenting who I'm with or what I'm doing. I like to be private and let us create our own narrative before people start creating the narrative. But the best part is just like, it's a city of romance. There's so many beautiful things to go do. Just walking around the city is such great energy, so I just love the city. There's tons of great restaurants, shows — you can never run out of ideas of dates to do here."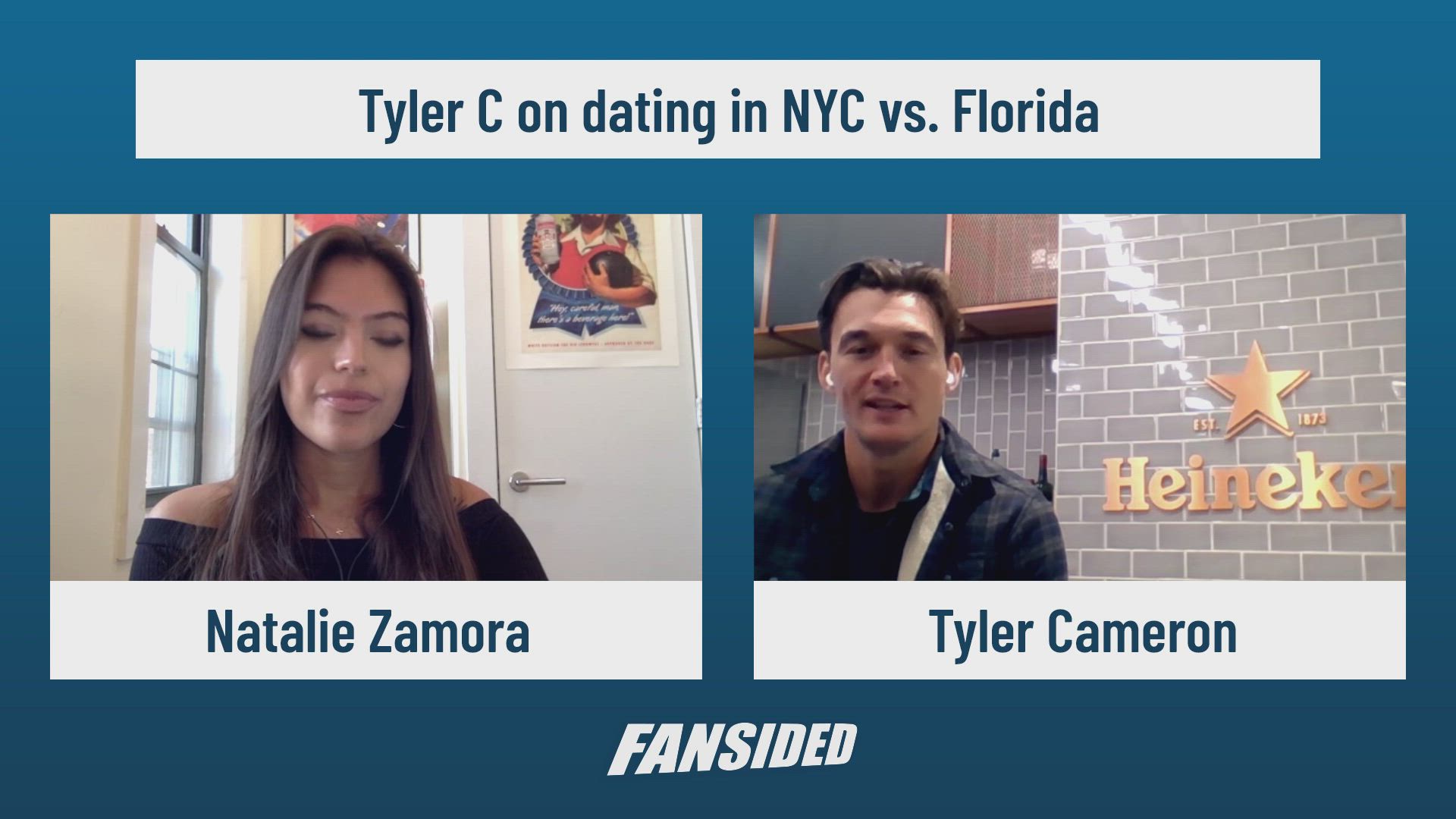 We also asked Tyler for his thoughts on Hannah Brown's upcoming book, God Bless This Mess: Learning to Live and Love Through Life's Best (and Worst) Moments, which debuts on Nov. 23.
According to Us Weekly, Hannah writes that she was "deeply hurt" by Tyler and the way their relationship ended. Though Tyler didn't win her season of The Bachelorette, Hannah did try to reconcile with him after things didn't work out with the winner, Jed Wyatt.
"You know, no one is ever going to get what they want or feel the way they want to feel when a relationship doesn't work out the way they want it to work out," Tyler told FanSided. "And that's it. But all you can do is wish for each other's happiness and I hope [Hannah] has nothing but success with her book, and she'll do great."
Dating aside, Tyler's professional life is thriving and it's even better that he gets to do so much of it with Matt. To catch up with Tyler and follow along with what he's up to, check out his Instagram.