Aaron Rodgers can own the Chicago Bears this year like never before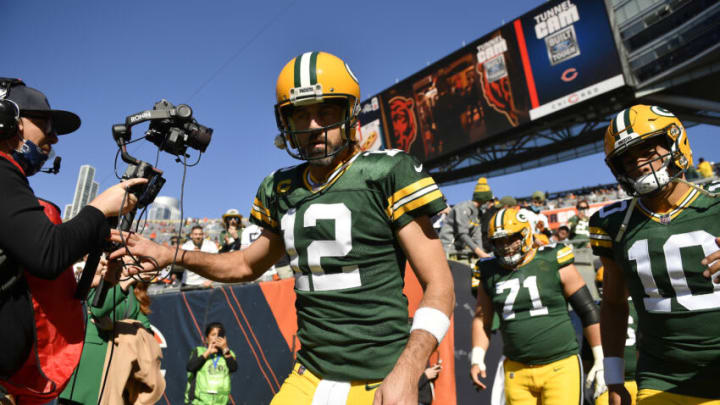 CHICAGO, ILLINOIS - OCTOBER 17: Aaron Rodgers #12 and Jordan Love #10 of the Green Bay Packers take the field before a game against the Chicago Bears at Soldier Field on October 17, 2021 in Chicago, Illinois. (Photo by Quinn Harris/Getty Images) /
Aaron Rodgers has said that he has owned the Chicago Bears, but this year, he has a chance to put a stamp of approval on that statement.
The Chicago Bears currently have the most wins of any NFL franchise, but Aaron Rodgers, the self-proclaimed owner, may have something to say about that.
Since 1920, the Bears sit at 783 victories as a franchise, the most in NFL history. Green Bay sits at 781. This means that if the Packers win two more games than the Bears this season, the Green and Gold will have the distinction of being the most winning franchise in NFL History.
That would not only be devastating to Bears fans, but for Aaron Rodgers and his friends, it would only add to the fun that started last season on a memorable touchdown run that triggered a viral moment.
Aaron Rodgers has a real good chance to officially own the Chicago Bears if things go according to plan.
The best part for Aaron Rodgers is if the Packers win in Week 1 against the Vikings and Chicago loses to San Francisco, then Week 2 on Sunday Night Football would mean that Green Bay would have a prime opportunity to tie the Bears and own the record alongside their rivals. A fitting story.
However, it would not be wise to poke the bear too much. At some point in time, Chicago will be willing to answer, but given how Rodgers has had his way with that franchise, it might be a long time before they fight back and have something or anything to say about it.
Aaron Rodgers has made it clear that he owns the Bears, and his record against them doesn't dispute that: he's only lost five regular season games to his Windy City rivals. But taking away their moniker of having the most wins by an NFL franchise? That would be really something to scream to the crowd in Soldier Field about. But Lambeau will be their first meeting; that's a good consolation prize.