Mets planned starters will give Yankees no breaks in Subway Series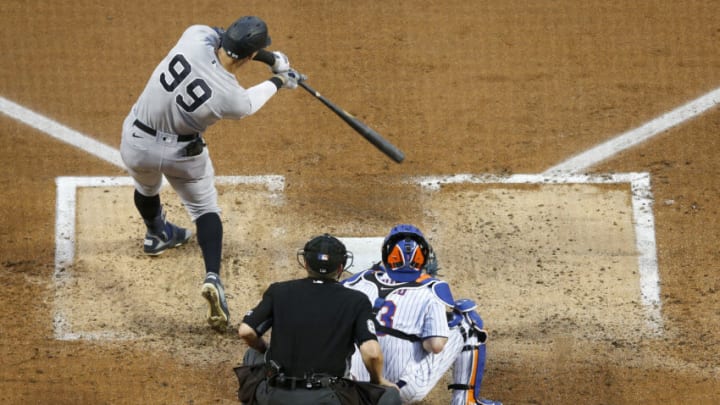 Yankees, Aaron Judge (Photo by Jim McIsaac/Getty Images) /
The Subway Series won't be a cakewalk for the struggling Yankees based on the Mets' planned starting pitchers
The New York Yankees have a meaty schedule right where they would really like some confidence-building gimme games. Since the trade deadline, the Yankees have won just 3 games, which equals the number that the starting pitcher they traded away, Jordan Montgomery, has won himself.
Aside from an epic walk-off grand slam from Josh Donaldson earlier this week, the Yankees have been a disaster lately. And coming up are two Subway Series games against the cross-town rival Mets.
The Mets are a great team as it is, with hitters galore and strong pitching. But with just two games on the slate, you'd hope you might get an easier matchup for at least one of those.
Subway Series pitching: Mets are slated to start Max Scherzer, Jacob deGrom against Yankees
No breaks for the Yankees, though. They're scheduled to face Max Scherzer and Jacob deGrom with 2.15 and 2.31 ERAs, respectively, according to Mets beat writer Tim Healey.
Just before the deadline, the Yankees dropped two games in Queens to the Mets, with the Mets posting a +4 run differential across the two games.
While the boys in pinstripes will have home-field advantage this time around, that's just one of the many factors they'll need on their side to get the job done. Over the last 14 days, the Yankees have 39 RBI, the Mets 62. The Yankees have a 25.4% strikeout percentage, the Mets 21.1%.
You get the idea. Mets are hot. Yankees are not.
The Yankees might have Giancarlo Stanton back for the series, though it could be a bit too soon. Stanton is poised to make a minor league rehab appearance this weekend (subscription required). Assuming that goes well, his return could be during one of the Mets games.
Scherzer pitched Game 2 of the first half of the Subway Series this year. He went 7 innings, giving up 5 hits, no runs, and walking just two batters. He logged six strikeouts as well. deGrom, who started his first game August 2, has yet to face the Yankees this season. The Yankees have gone 8-15 in the 23 games that he's been unavailable for due to injury after going 16-7 in the 23 games prior.
All eyes in New York will be on these two games on Monday and Tuesday in the Bronx.