New details on Brett Favre welfare fraud situation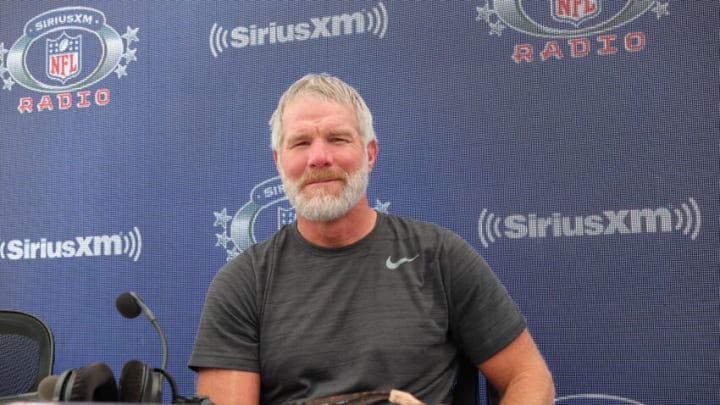 LOS ANGELES, CALIFORNIA - FEBRUARY 11: Former NFL player Brett Favre attends day 3 of SiriusXM At Super Bowl LVI on February 11, 2022 in Los Angeles, California. (Photo by Cindy Ord/Getty Images for SiriusXM ) /
Former Green Bay Packers quarterback Brett Favre has been the face of controversy over a welfare fraud scandal, and new details have been released.
Former Green Bay Packers quarterback Brett Favre, despite retiring from the NFL in 2010, has gained traction in the media once again, however, he's in the public eye for all the wrong reasons. He was recently tied to a scandal that used welfare money to fund the construction of a volleyball facility at the University of Mississippi.
Favre is defending his innocence, claiming he had no idea that the funds were from welfare. However, according to Mark Fainaru-Wada of ESPN, two concussion drug companies backed by Favre are also amidst a welfare scandal tied to him.
According to Fainaru-Wada, founder of Prevacus and PresolMD Jake VanLandingham has faced "substantial" debts over the past few years, and each company is alleged to have received over $2.1 million in Mississippi welfare funds.
Favre is reportedly the top outside investor of Prevacus and has put $1 million into the companies.
VanLagingham told ESPN, "I had no idea this was welfare money, and I've always been an upstanding person when it comes to research." Favre has yet to comment, but it seems as though things are only looking worse for the formerly beloved quarterback.
Brett Favre's welfare scandal may run even deeper than it initially seemed
Upon initial news, it seemed as though Favre's scandal was just through the University of Mississippi. Though it wasn't overly believable that he was unaware of the funds coming from welfare considering cryptic text messages of Favre asking if the media could find out where the funds came from, it'd be easier to come back when just one organization is involved.
The web, however, seems to be growing more and more as connections are made and tied back to Favre. He dug himself into a deep hole when being exposed by the University of Mississippi, and now things are only looking worse.