NBA Mock Draft: Who could trade for the No. 1 pick?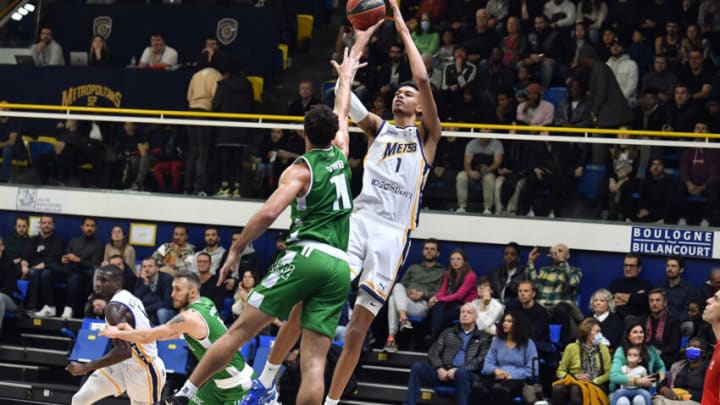 (Photo by Aurelien Meunier/Getty Images) /
Jan 8, 2023; Houston, Texas, USA; Houston Rockets guard Kevin Porter Jr. (3) reacts after scoring a basket during the first quarter against the Minnesota Timberwolves at Toyota Center. Mandatory Credit: Troy Taormina-USA TODAY Sports /
The No. 1 pick is almost certainly going to be Victor Wembanyama, but there's a chance that pick could be traded. Our latest NBA Mock Draft takes a look at the possibility.
There are still a lot of questions about the 2023 NBA Draft and the lottery and final order might not bring as much clarity as normal, considering how deep this class is. Victor Wembanyama is the consensus No. 1 pick, and for good reason, but there are plenty of other potential stars available in the lottery.
It's highly unlikely that someone other than Wembanyama goes No. 1 but there are some teams who might find themselves overly intrigued by the potential of Scoot Henderson or Amen Thompson and might find themselves willing to listen to a trade that has them moving down a spot or two, picking up talent or future assets for the cost of passing on Wembanyama.
The Oklahoma City Thunder (currently 5.3 percent chance at the No. 1 pick) or the Orlando Magic (10.5 percent chance) are two such possibilities. The Thunder took a similar player last season in Chet Holmgren and might prefer an elite guard prospect. Ditto for the Magic who have Bol Bol and Paolo Banchero in the frontcourt and could desperately use an outlier point guard like Scoot Henderson.
Again, we're talking about very slim possibilities but if one of those two teams did land the No. 1 pick and were open to trading it, these three teams could put together a compelling offer.
3. Houston Rockets have the young players and picks
The Rockets have a 52.1 percent chance of landing a top-4 pick so even if someone leapfrogs them for No. 1 they'd be able to offer a chance to draft Henderson or one of the Thompson twins as the basis of their package. They also have the No. 28 pick in this year's draft and both their own and Brooklyn's picks for 2024 to offer up. In addition, they have a slew of intriguing young players with potential but not quite enough to make them untouchable — Usman Garuba, Tari Eason, Kevin Porter Jr., Kenyon Martin Jr. — who could be used to sweeten the deal.