Is the roof open for the Super Bowl tonight?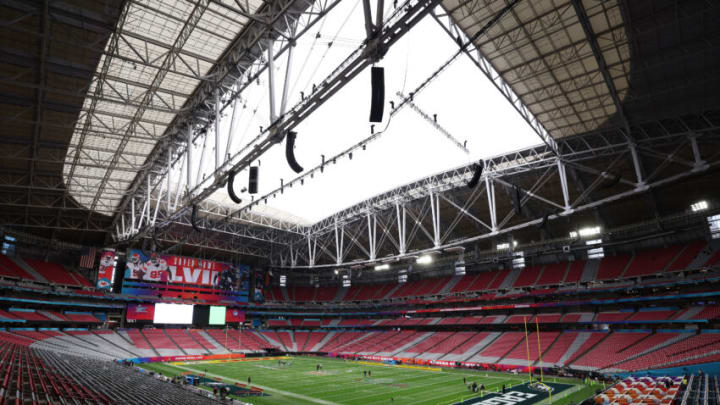 Is the roof open for Super Bowl? (Photo by Gregory Shamus/Getty Images) /
State Farm Stadium, where Super Bowl 57 is being played between the Kansas City Chiefs and Philadelphia Eagles, has a sliding roof system.
The Super Bowl is finally here, and the week has been building anticipation for the event in Glendale, Arizona. State Farm Stadium is this year's host for the big game.
State Farm Stadium is a unique NFL stadium that allows games to be played indoors or "outdoors". It has a roof that slides open when the weather is nice, and a natural grass field that rolls out into the parking lot for sunlight when games aren't being played to maintain the grass.
How does the roof open at Cardinals stadium, State Farm Stadium?
The roof itself only really opens in the center over the field of play area. Two massive panels on sliders meet in the middle when the roof is closed and move toward the end zones when open. You can see a time-lapse of how it works here:
Here's a written description of how it works straight from State Farm Stadium's website:
"State Farm Stadium presented designers with a mix of challenges requiring a blend of mechanical, electronic and controls solutions. Of these, controlling the retractable roof which operates at an incline was one of the most difficult. To solve this, designers created a 480-horsepower system to move the two roof panels and maintain control of the structure while in motion. Made of translucent Bird-Air fabric and moving on steel rails, the system incorporates the use of eight cable drums or winches that move each panel. Each cable drum is powered by four 7.5-horsepower motors that wind up a one-and-a-half-inch diameter cable."
It's hard to tell in the video above, but there's a significant incline that the roof panels are sliding down, so the engineering behind it all is extremely important in order to keep things safe for everyone inside the stadium.
As the description notes, there are eight cable drum winches that are powered by four 7.5 horsepower motors each (for a total of 240-horsepower on each side, 480 in total) with 1.5-inch cable in each of the winches.
Will the roof be open at State Farm Stadium for the Super Bowl?
Barring any sudden change to the forecast, the roof is expected to be open at State Farm Stadium for the Super Bowl tonight, according to Brian McCarthy:
As McCarthy notes, the game is expected to start in the low 70s and drop to the upper 50s by the end of the evening, with no rain forecasted. Great football weather.