Jalen Hurts can't stop winning at life, graduates with Masters from Oklahoma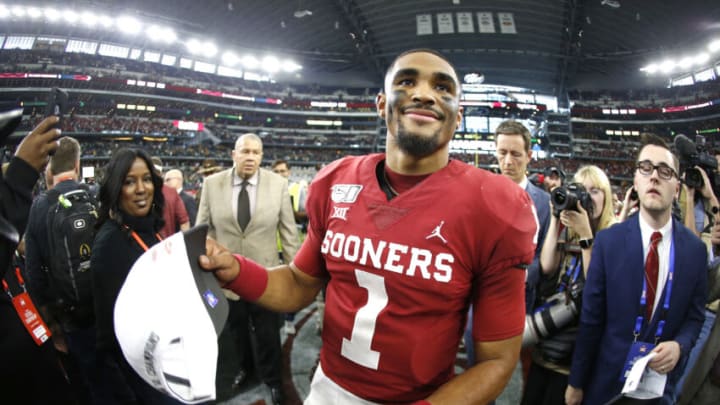 ARLINGTON, TX - DECEMBER 07: Jalen Hurts #1 of the Oklahoma Sooners celebrates the team's win over the Baylor Bears following the Big 12 Football Championship at AT&T Stadium on December 7, 2019 in Arlington, Texas. Oklahoma won 30-23. (Photo by Ron Jenkins/Getty Images) /
Philadelphia Eagles quarterback Jalen Hurts had quite the year, and he added to it by earning his Master's degree from Oklahoma University.
No one has had a better year than Philadelphia Eagles quarterback Jalen Hurts. He had a record-breaking performance in Super Bowl 57. He nearly helped the team win their second-ever Lombardi Trophy. Then, he became one of the highest paid players in NFL history this offseason.
Just how could Hurts' 2023 get any better?
On Friday, Hurts took part in the University of Oklahoma's graduation, where he completed his Master's degree in human relations. Upon walking on stage to receive his degree, Hurts got a huge round of applause from those in attendance.
Jalen Hurts receives Master's degree from Oklahoma
Hurts started his collegiate career at Alabama, playing for the Crimson Tide football program. After the 2018 season, he transferred over to Oklahoma. He graduated from Alabama with a bachelor's degree in public relations in December 2018.
Getting the chance to be QB1 for the Sooners, he put up a heck of a season in 2019. Through 14 games in 2019, Hurts threw for 3,851 yards, 32 touchdowns, and eight interceptions while completing 69.7 percent of his passes. Hurts also ran for 1,298 yards and 20 touchdowns on 233 carries.
Hurts declared for the 2020 NFL Draft, where he was selected in the second-round by the Eagles. After a promising second season, Hurts took a huge leap to become one of the game's top quarterbacks. Through 15 regular-season games, Hurts threw for 3,701 yards, 22 touchdowns, and six interceptions while completing 66.5 percent of his passes. Additionally, Hurts ran for 760 yards and 13 touchdowns on 165 carries.
In Super Bowl 57, Hurts became the first player in the game's history to run for two or more touchdowns and throw for another, and broke the quarterback rushing yards record (64 by Steve McNair) with 70. Hurts also became the second player ever to rush for three touchdowns in a Super Bowl (Terrell Davis in Super Bowl 32).
This offseason, the Eagles and Hurts agreed to terms on a five-year, $255 million contract extension, which made him the highest paid player in league history. He would hold that distinction until Lamar Jackson signed a five-year, $260 million contract with the Baltimore Ravens.
What a year for Jalen Hurts. A tremendous third season in the NFL, a new lucrative contract, and now a Master's degree.