Takeaways as Panthers outlast Hurricanes in thrilling 4OT series opener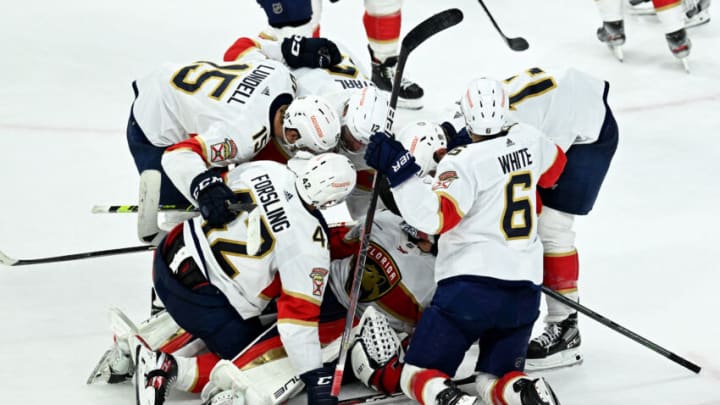 Sergei Bobrovsky #72 of the Florida Panthers celebrates. (Grant Halverson/Getty Images) /
Frederik Andersen #31 of the Carolina Hurricanes. (Bruce Bennett/Getty Images) /
Hurricanes' power play kept them in it
While the Hurricanes aren't known for their man advantage production, those tallies ultimately kept them in the contest. With 17:44 remaining in the opening frame, Marc Stall was boxed for tripping Martin Necas, putting Carolina on the power play.
That would become a five-on-three 39 seconds later when Noesen screened goaltender Sergei Bobrovsky as a shot from Martin Necas went wide. As Noesen turned his body towards the puck, Aaron Ekblad cross-checked him in the back and into Bobrovsky.  The infraction gave the Hurricanes 1:22 on the two-man advantage, and they would capitulate when Sebastian Aho found Seth Jarvis for the icebreaker with 11 seconds remaining in the first period, giving Carolina a 1-0 lead.
Florida coach Paul Maurice was furious about the call and felt he had every reason to cascade the referees following the goal. "That's on you," he shouted towards the men in stripes as he went to the visitor's locker room with his head down, searching for words to tell his team after he felt the Panthers were robbed of a scoreless frame.
The goal set a new playoff career-high for Jarvis, who has nine points in 12 games and added to a career-best at five goals. The 13th overall pick in the 2020 NHL Draft has done this after a disappointing regular season where he tallied 39 points in 82 games after posting 40 in 68 the year before.
Carolina's relentless puck pressure eventually cost them as they took two consecutive penalties. But their playoff-best penalty kill held firm. Then, needing a goal in the third period after yielding two in the second, the vaunted man advantage struck again. After Bennett was penalized for boarding Jordan Martinook, Necas fed Jarvis, who sauced the puck to Noesen for a tic-tac-toe game-tying tally.
It would kickstart a stanza dominated by the Hurricanes, as they outshot the Panthers 14-2 but couldn't forge ahead on the scoreboard. They received two more power plays in the overtime sessions, but their luck had run out by then. It proved true when Jarvis was left alone down low towards the end of the first overtime but rang the crossbar. The Panthers aggression paid off, Bobrovsky stood tall, and the game continued.