2024 World Series Odds for Every Team
Taking a look at the betting odds to win the 2024 World Series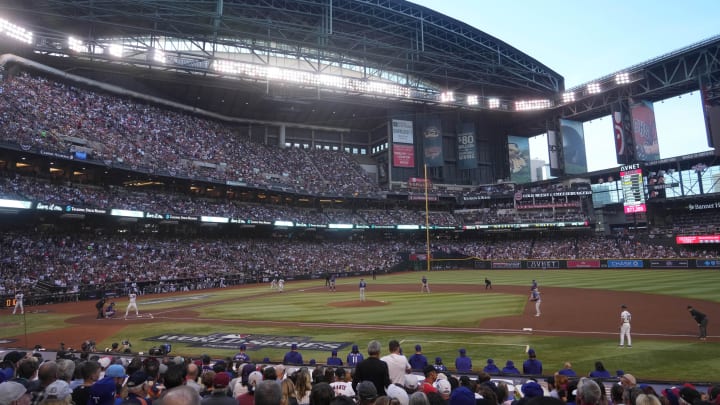 Nov 1, 2023; Phoenix, AZ, USA; General view of the stadium in the first inning between the Arizona / Joe Camporeale-USA TODAY Sports
The Texas Rangers are your 2023 World Series champions!
After being one of the hottest teams in MLB at the start of the season, the Rangers cooled off down the final stretch but then got hot again when it mattered, tearing through the playoffs and eventually winning their first World Series in franchise history.
Now that the 2023 season is in the books, it's time to look ahead to 2024. Sportsbooks have already released the odds to win next year's Fall Classic, and the likely candidates sit atop the odds list.
The Atlanta Braves are the betting favorites at +600 with the Los Angeles Dodgers close behind them. The Texas Rangers and Houston Astros come in behind them, tied at +800 odds. Finally, the Philadelphia Phillies round out the top five at +1000.
If you want to get the best value possible, sometimes it's smart to bet on next year's champion as soon as the odds are released. If you want to do exactly that, then click the link below to sign up for an account at FanDuel Sportsbook. If you do, you'll receive $150 in bonus bets and three months of NBA League Pass when you place your first $5 wager.
Now, let's take a look at each team's odds to win the 2024 World Series.
2024 World Series Odds for Every Team
Braves +600
Dodgers +700
Rangers +800
Astros +800
Phillies +1000
Rays +1300
Blue Jays +1600
Yankees +1600
Padres +1800
Twins +1800
Orioles +1800
Mariners +2000
Mets +3000
Diamondbacks +4000
Cubs +4000
Red Sox +4000
Reds +5000
Brewers +5000
Cardinals +5500
Giants +5500
Guardians +6000
Marlins +6000
Tigers +8500
Angels +10000
Pirates +10000
Nationals +20000
Royals +20000
White Sox +20000
Athletics +25000
Rockies +25000
---
Odds refresh periodically and are subject to change.