Jon Lester can't throw the ball to first base (Video)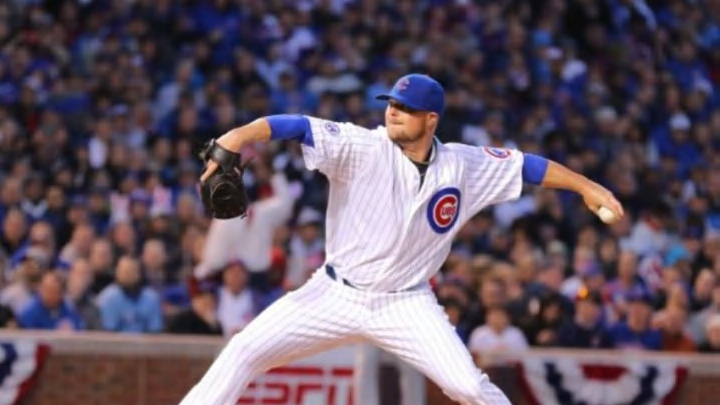 Apr 5, 2015; Chicago, IL, USA; Chicago Cubs starting pitcher Jon Lester (34) delivers a pitch during the first inning against the St. Louis Cardinals at Wrigley Field. Mandatory Credit: Dennis Wierzbicki-USA TODAY Sports /
Jon Lester attempted his first pickoff move since 2013. It wasn't awful, but his second pickoff throw was about as bad as one can get.
---
More from Chicago Cubs
After signing with the Chicago Cubs over the winter to one of the most expensive contracts of the offseason, Jon Lester was expected early on to be the ace of this staff for six years. In exchange, the Cubs would pay him over $150 million.
Lester has had a rough start to the season in 2015, posting an 0-1 record through two starts, allowing 18 total hits, nine earned runs and a 7.84 ERA. Let's just say Cubs fans are less than enthused about the poor start for their hundred-million dollar man.
The decrease of throws over for Lester has been well-noted. In fact, he threw over to first 70 times in 2011, then just five times in 2012, seven times in 2013 and not once last season.
All of that money was barely enough to entice Lester into throwing more pickoffs, though. The 31-year-old ace attempted his first, and second, pickoff since April 2013 on Monday night and I'm going to go out on a limb and say that Lester regretted it.
Well, actually, here's the first pickoff throw since 2013:
It was the second pickoff attempt that did him in:
To be fair, Lester has been having a hard time throwing strikes this season too.
The second attempt soared over Anthony Rizzo's head and into right field. The baserunner took off and tried to make it all the way to third base, but was tagged out in the process.
So, would we call this a successful pickoff since the out was recorded? Sure, why not.
Now that Lester has overcome his fear of throwing pickoffs and has been exposed to the very reason he was afraid in the first place, I'd say it will be a while before he attempts another.
More from FanSided