NHL playoffs 2018: Predators vs. Avalanche preview and prediction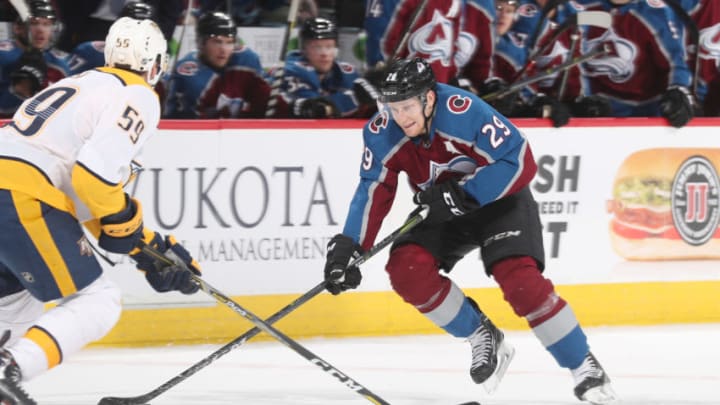 DENVER, CO - MARCH 16: Nathan MacKinnon /
The Colorado Avalanche squeaked into the playoffs almost a year after finishing dead last. A series loss at the hands of the Predators won't change the fact that this season was a huge success.
In September 2017, no serious hockey analyst predicted the Colorado Avalanche would finish above .500, let alone make the playoffs. They were so far off of everyone's radar that even a 10-game win streak couldn't do much to convince people that they would qualify. Now that the playoff picture is clear, they will no doubt be an afterthought to everyone outside of the Mile High city. Their first round task looks daunting, but there's no reason to believe that they won't put up a fight.
Breaking down the series
The Avalanche will enter the postseason riding the NHL's 10th best offense, anchored by inevitable Hart Trophy-nominee Nathan MacKinnon. They can score in bunches and although only three other playoff-bound teams gave up more goals than them, the Avalanche boast the NHL's fourth- best penalty kill — a sign that they are capable of keeping the puck out of the net.
Colorado's X factor will be ensuring that their power play continues to roll. They finished the year converting 22 percent of their chances with the man-advantage. Nashville also topped the league in penalty minutes, so drawing penalties shouldn't be difficult. If the Avalanche are to stay in it, they will need to lean heavily on their special teams as they have all year and convert when the Predators hand them two minute advantages.
What is worrying for Colorado is that some of its top offensive contributors (Alexander Kerfoot, Matt Nieto, Mikko Rantanen) finished the season well above the average NHL shooting percentage. Whether or not a correction reveals itself in the next two weeks, they're about to face one of the deepest teams in hockey. Nashville wiped the floor with them in the series and they field a second defensive pairing that could be most teams' No. 1.
While the Predators don't have a player like Nathan MacKinnon, they do have a committee. Tallying up the points from each team's top-15 point producers shows Nashville's standard deviation sits at roughly 14, while Colorado's sits at 24. Put another way, the Preds can rely on more players to produce at the same level. On the other side, Colorado relies much more heavily on a few players to produce much more than the average ability of their roster.
Players to watch
Nashville: My player to watch for Nashville is Pekka Rinne. The Predators are going to take their fair share of penalties, and he's the last line of defense. While his playoff numbers have generally been very good over his career, he has had down years. We know Nashville's lineup is deep enough to do what they've done all year, now it's up to him to maintain his level of play.
Colorado: Samuel Girard. Girard came over to Colorado in the Matt Duchene trade. Drafted as a defensive prospect with high-offensive upside, he put up three points in five games for Nashville before racking up 20 in 68 for the Avs. Seeing 17 minutes a game and over 50 percent oZS, look for him to be very noticeable.
Prediction
I love how Colorado's future is shaping up, but I'm not about to give them a chance of winning this series. Nashville's lack of discipline should cost it a game or two on the road. Many are calling for a sweep, but remember what the Leafs were able to do against the Capitals last year. I see a lot of similarities here. Predators in 6.
Next: 30 best NHL goaltenders of all time
Agree? Disagree? Let me know on Twitter: @armstrongNHL
For more from the NHL playoffs, make sure to follow FanSided and stay tuned to our NHL hub for all the latest news and results.