The Step Back Q&A: Filayyyy discusses balancing fame and playing ball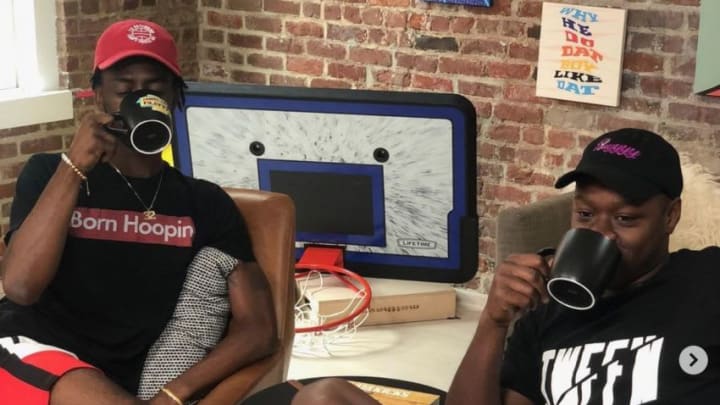 IG: @filayyyy /
Instagram fame is a real thing in 2018, and Filayyyy is one of the worlds most recognizable voices. The Step Back caught up with the man himself to discuss how he came to prominence, and what lies ahead.
Jesse Jones or 'Filayyyy' as he is now commonly known, has over one million followers on Instagram, surging onto the scene with his incredible videos that combine musical prowess with a variety of sports — basketball in particular.
Filayyyy's star continues to rise, and with a guest appearance one of the NBA's newest commercials, we got the chance to catch up with the man himself, quickly finding out there is far more to Jones than you see on the Instagram page.
The new commercials fall in line with the NBA's commitment to finding different ways to engage with fans. It mirrors the recent NBA Playmakers initiative, which allows video creators and basketball lovers to interact and share content through the Playmakers YouTube channel and other digital platforms.
The Step Back: So I want to start by asking about the original Steph Curry/Matthew Dellavedova viral video. How did that come about, because while that's the one clip that brought the musical side of you to fame, how long where you doing that type of stuff previously?
Filayyyy: The Steph one is big, but one that people really know is the Isaiah Briscoe one. I had this church preacher vibe, so I guess a lot of people were drawn to that because there weren't many people singing with videos like that. So while people know the Curry/Delly one, most people really love the Briscoe video.
The Step Back: How quickly did you go from posting that clip to thinking: "This could be a big deal"
Filayyyy: It happened real fast. After people started to post the Briscoe video to their page, my phone was blowing up, notifications, likes, comments. I couldn't even send a text it was that crazy. I couldn't really believe it was happening because at the time I was trying to chase Instagram fame and when this happened through something that was my passion, a genuine love, it was crazy. I was able to create a concept where I can sing and do what I do and just be myself. It was a like, "wow, this is really happening!."
The Step Back: You have over one million followers on Instagram and provide something completely unique for basketball/sports fans around the world. How important is social media in your eyes, for allowing people to be as creatively wild as they want to be with limited restrictions?
Filayyyy: It's just the way of communication these days. Back in the day, we had newspapers, tv news, but now it's social media because everybody uses it. Everybody has Instagram, so it's exposure for people, it's how you get to be seen. Social media is very important for this generation because it's another way of communication. I mean heck, even animals have their own Instagram pages, it's crazy. It's an open free exposure platform, and the ones that become famous are the ones that use the platform and figure out how to present themselves the best way possible. It's a free platform where I can post my talents, post my stuff and you can go viral through that.
The Step Back: I assume basketball is your number one love in the sports world. But you do venture into other sports with your clips including football and boxing for example. Would you classify yourself as a complete sports fanatic?
Filayyyy: For sure. At first, I was sticking with basketball, because I'm a basketball player, it's what I do. I also played football and baseball growing up and people started telling me to try different things with my work. At first, I wasn't doing that because I didn't think I'd be able to voice over football videos or other sports as I didn't think it would be as funny. Then I tried a football video and when I saw the engagement on that it was so dope because people loved what I was doing.
From that point, people from all different sports started to DM me to do videos, and that's when I decided I was going to try different things other than basketball. So once I started doing other sports and becoming a sports analyst on Instagram, my account blew up even further. It was about getting the audience for my page, and now I have a lot of different followers form different sports and Soccer is next. I'm currently learning soccer so I can do soccer videos, because the audience for that game is huge, and if I get into the soccer crowd, it's going to be huge.
The Step Back: Outside of the social media fame, many may not realize you can seriously ball yourself. Tell us a little bit about your college career and the successes you had at that level.
Filayyyy: My freshman year I had a solid year, I averaged around nine points but had my nights where I'd score 18, 20 points. I came from a high school where I had a hard coach who didn't give me a lot of opportunities to play, so I went to a small community college. Then my sophomore year was a breakout year for me. We had a lot of injuries so our team wasn't that good but I managed to average 25 points a game, five assists, four rebounds, so I kind of shifted gears in that year.
I had a few Division I offers but I ended up going to the University of Bridgeport, who had a nice program and we won a conference championship in my junior year. We lost in the first round of the tournament when again a few of our players got injured who we really needed.
My senior year I started off hot averaging 28 points a game and then things went bad with my coach, but it was a great learning experience for me. It was a great experience in setting myself up for life after college because I learned so much through playing and when I get out of college I became more poised, a better overall player. I have no regrets at all from my college career.
The Step Back: Now we've spoken about your fame a little bit, but you're going to be appearing in some TV commercials hyping up the start of the NBA season. How did this opportunity come about and how was that experience of going through the filming process for those?
Filayyyy: To be in an NBA commercial itself just wows me. I don't even know what to say, I never thought I'd be in this position where people are going to see me as the games are going on is just crazy. The big thing is I'm actually in the commercial for being me, for being Filayyyy, Jesse Jones. I'm in there because of what I've been able to do and what I have a passion for. Working with the people down there was so fun, it actually only took me three minutes to do it because I was just myself. They said anybody else would take an hour to do the same thing but I'm just born for the camera, they just asked me to do what I love to do. It was great working with them and especially going to LA and enjoying the weather and talking about my brand and the NBA. I can't wait to see it on TV, I'm going to record it.
The Step Back: Those commercials I believe are set to go live later this week, but another guy to make a cameo in those is Famous Los. Much like yourself, he's gathered a cult following on social media. Tell us a little bit about the project you two have just launched and what we can expect from that?
Filayyyy: What's crazy about the show was that Famous Los came to New York a few months ago before summer and we were just talking and I just was like, "we should do our own show, man, we can do voiceovers, we can talk about anything."
He just thought it was a smart idea. We spoke to our manager and wanted to make it happen. Los flew in recently and we just filmed for the full week, it was crazy how much work we put in.
The connection we have, the bond, the vibe is just good. We just had that good vibe for the whole week, just working with another influencer and someone with so much talent was a whole lot of fun. Two dudes coming together, talking about basketball and doing what they love to do and two people that have a strong following, it was just an opportunity of a lifetime. We just dropped episode two, and it's going to be a nice little show, and something I think that is going to be a big hit real soon.
The Step Back: Famous Los told me he really needs to get that Drake follow. He mentioned you might already have that? Who is your most famous follower?
Filayyyy: Yeah I got that Drake Follow!
Chris Brown was huge for me, that was so crazy. But I got Drake, Professor, OBJ, Dwyane Wade, Wiz Khalifa, Steph Curry following me wowed me. Curry actually may have wowed me the most. I think Westbrook and J.R Smith were the first ballers to follow me. It's a lot of people, it's just ridiculous.
The Step Back: Among all this fantastic media stuff, you also still hold hopes of playing professional ball. You were a part of the G League draft process over the weekend, what was that day like and how were you emotions throughout that process?
Filayyyy: I was one of the top prospects, but I didn't get picked up. Things happen for a reason and now I just have to get back in the lab and stay ready. Going into the draft I was confident but I knew there were no guarantees. Because of that, I was able to prepare myself for the fact I might not get picked but it's an opportunity and to come where I have to be in the G League draft is a blessing. Once the draft moved into the second round and I hadn't been selected I knew it wasn't going to happen and I knew it was time to get back in the gym and start the grind. People were ringing me telling me to keep my head up but my head is held high because I didn't play in high school, and to get where I am now is truly a blessing.
I've been trying to get overseas for the past two years but to do that you need the resume, you need the experience which I don't have so through my deal with Nike I was able to get the opportunity to go this way through the G League draft.
A lot of people think I can't play because I'm on Instagram, but I've shocked a lot of people and I didn't get picked but you just have to keep working. I've put in so much work to get here. Some people just walk straight into that, but I know the work I've put in so I'll never hang my head.
The Step Back: What comes first? Playing or the media stuff, or do you believe you can do both at a really high level?
Filayyyy: A lot of people ask me that, but at the end of the day I'm kind of already doing that. I'm in the gym every day and then I come home and do a video. I wake up in the morning, workout, go to an appearance and then do my videos.
Of course, things might change a little because I'd be a professional basketball player, but I'll never stop doing what I'm doing. Never.
I will never change or stop pushing the brand, if anything it would boost my brand because I'd be on the bigger platform. If I actually go on the big stage and show what I can do, then I would blow up even more.
The Step Back: Finally, what about the NBA, do you have a team in the NBA, and who is your tip for both the title and MVP?
Filayyyy: Nobody is beating the Warriors.
We actually had this conversation on the show, they just play great basketball but if the Lakers or Celtics come together they are looking really good, or the Rockets. I think MVP might be James Harden again or LeBron, or maybe even Kevin Durant. I definitely think the Warriors are going to take it again though.
The Famous Los and Filayyyy show can be found on Facebook Watch
Follow Filayyyy on Instagram: @filayyyy