103 thoughts and questions we had during the Many Adventures of Winnie the Pooh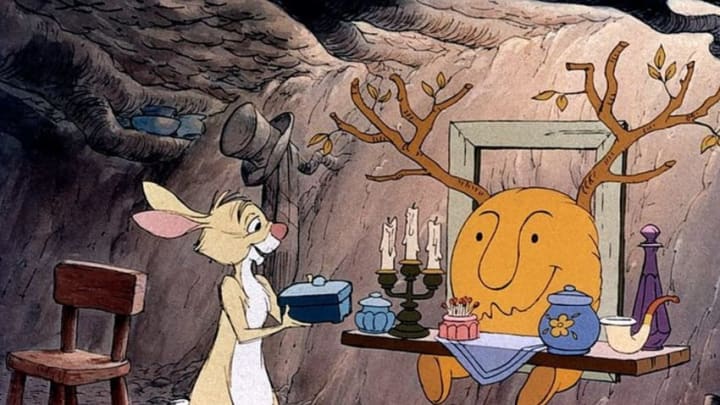 Sterling Holloway and Junius Matthews in Winnie the Pooh and the Honey Tree from the Many Adventures of Winnie the Pooh / Disney /
The Many of Adventures of Winnie the Pooh? More like the many questions of the FanSided staff.
As part of Disney Week and Winnie Wednesday, FanSided staffers Shea Corrigan, Ashley Young, Mia Johnson and Taylor Clark watched the 1977 classic The Many Adventures of Winnie the Pooh and, well, let's just say we had some thoughts, questions and concerns.
To be clear, any chance of this making coherent sense is contingent on you having just watched this exact YouTube playlist of the movie. But who's to say, perhaps an utter lack of context is even better.
1. Is there a trap remix to Winnie the Pooh's theme song?
2. At what point in the credits did Christopher Robin learn to spell "house"?
3. "Short, fat and proud of that." Is Pooh the OG body positivity warrior?
4. How does Pooh get the honey out of his fur?
5. Does Pooh deep condition?
6. Does Pooh have hip dysplasia? Hence the waddling.
7. For a large, plump bear, he climbs trees with such ease.
8. I didn't know this was a musical.
9. Where is his tail?
10. Does Pooh's thicc bottom protect him from falls?
11. What is a gorse bush?
12. "The first person he thought was…" "Winnie the Pooh!" Narcissist icon.
13. Does Pooh wax or thread his brows?
14. Why does Christopher Robin look like he's never run before?
15. Also why is he wearing women's shoes?
a. Also clothing has no gender.
16. Does it hurt to have your tail nailed back on?
17. WHY IS THERE A SHOT GUN ON THE DOOR.
18. Is the gun loaded? Is the safety on?
19. Why is everyone okay objectifying Eeyore's butt?
20. What's in that balloon that allows it to lift a whole bear and child?
21. Is Pooh's mud bath a skincare routine?
22. "Silly old bear": How old is Pooh??
23. "AIM ME AT THE BEES, PLEASE."
24. Does Pooh not fear death?
25. Why doesn't Pooh assess risks?
26. Would Pooh be a solid contestant on Fear Factor?
27. Would Pooh be a solid guest on Joe Rogan's podcast?
a. Would Pooh be a solid guest on Mark Carman's podcast, On the Mark?
28. Would Pooh get high with Joe Rogan?
29. Is Pooh endangering the bees?
30. Does Pooh need shoe inserts for his exceptionally flat feet?
31. Why does Christopher Robin put up with Pooh's drama?
32. Or is Christopher Robin a messy boy who lives for drama?
33. Is Pooh a peeper?
34. The gif!! Can seeing the scene from an iconic gif provide the same feeling of satisfaction as hearing a character say the title of the movie?
35. Is Pooh the worst houseguest?
36. Why does Rabbit have so much honey to begin with?
37. Is the Hundred Acre Wood sizeist?
38. Are there landlords in the Hundred Acre Wood?
39. Is Christopher Robin the landlord?
40. Is Hundred Acre Wood property rent controlled?
41. Who the f*ck is this…gopher?
42. What speech disorder causes excessive whistling?
43. What is the currency system of Hundred Acre Wood?
44. Does the Hundred Acre Wood have Venmo in 2019?
45. Why does so much of the action of Christopher Robin's imaginary world not actually involve Christopher Robin?
a. Does Christopher Robin have a self-esteem problem?
46. What does Rabbit have against butts?
47. Pooh's butt looks like a blob fish.
Blob fish and Winnie the Pooh's butt / FanSided /
48. This is a cautionary tale about making plans and inviting people over.
49. Wait…they're really going with starvation weight loss as the answer?!
50. This '50s scarf look really works for Pooh.
51. Why does one of Christopher Robin's socks droop so badly?
52. "Pooh's Thotful Spot."
53. Is Owl's home up to code?
54. Does Owl have homeowner's insurance?
55. THERE'S PIGLET HEY PIGLET.
56. Omg, why is Piglet so cute?!
57. My favorite Hundred Acre Wood character is whichever one is speaking (except never Rabbit or that gopher or Owl).
58. Why is Roo's mailbox higher than Kanga's but Roo is shorter?
59. Why doesn't Eeyore have a better home? I have 59 more questions about the Hundred Acre Wood housing crisis.
60. Eeyore's "thanks for noticing me" is such a mood.
61. "Blustery" is an underused word.
62. Does the Hundred Acre Wood have concussion protocol?
63. Fragile dishware seems to be a real problem in the Hundred Acre Wood.
64. How many homes as Pooh ruined? At least three, so far, right?
65. Never invite Pooh to your home.
66. Pooh is just the Big Bad Wolf of the Hundred Acre Wood.
a. Pooh is a menace.
67. Who tf wears a hat to bed?
68. If you were sleeping without pants, and someone was breaking in, wouldn't you put pants on first? Before approaching the door with a gun?
69. How would you rate Pooh's handling of a home invader?
70. Why does Pooh have a framed photo of himself? Like a whole headshot.
71. Is Pooh provoking Tigger?
72. Does Tigger have short-term memory loss?
73. Why do they all have mirrors if they don't know what mirrors are?
74. Where — who! — are Pooh's parents?
75. What drug(s) did Pooh take before bed?
76. More like, what's really in that "hunny"?
77. Brief list of societal problems in the Hundred Acre Wood: Safe housing, gun control, addiction.
78. Add terrible inclement weather i.e. climate change to that list of problems.
79. My heart is breaking for Eeyore, house hunting for Owl whilst he is ALSO homeless, having had his home totaled by Pooh.
80. Where's my House Hunters: Hundred Acre Wood?!
81. Pink cake with chocolate frosting?? Interesting combo.
82. Why does his party hat have a brim?
83. SQUATTER'S RIGHTS.
84. Piglet! Everyone is a giver except Pooh.
85. Pooh does all that damage, but he saves someone's life once and gets a party?
86. This absolute Eeyore — who still does not have a home — erasure.
87. Rabbit seems completely unbothered that someone just gave away Piglet's house.
88. Where did Tigger come from if he's the only one???
a. God?
89. It's a good thing Pooh is cute.
90. Why is Tigger's growl so sexual?
a. "You've bounced me before."
91. "Is the next chapter all about me?" Pooh!
92. Pooh loves three things: honey, homewrecking and himself.
a. Literal homewrecking. Like, the wrecking of physical homes not marriages, which maybe don't even exist in the Hundred Acre Wood??
93. Protest meeting! Rabbit bringing strong "neighborhood watch" energy.
94. Rabbit is the Don and I'm afraid Tigger is gonna be whacked.
95. The Irishman 2: Tigger is Taken for a Long Explore.
96. MISSING IN THE MIST!!
97.  I kinda feel bad for Tigger he doesn't deserve to be ignored.
98. Are the Hundred Acre Wood animals more or less welcoming to newcomers than the Toy Story toys?
99. I love the Deadpool-style fourth wall breaking.
a. Absolutely love the back and forth with the narrator and physical book.
100. Would I wear Christopher Robin's winter trench, turtleneck, shorts and knee-high boots look? Honestly, probably.
101. How old is Christopher Robin that he is only now going to school? Or is this a end-of-summer-vacation thing?
102. Why is Africa below North America on that totally inaccurate globe?
103. He's never going to learn to find Brazil on that map.
a. This is a good reminder that Paddington, a fellow bear icon, is Peruvian.
Watch The Many Adventures of Winnie the Pooh (with a free seven-day trial!) on Disney+.