Peter's producer and Dustin's DMs: Dustin, Ashley and Shea talk The Bachelor episode 7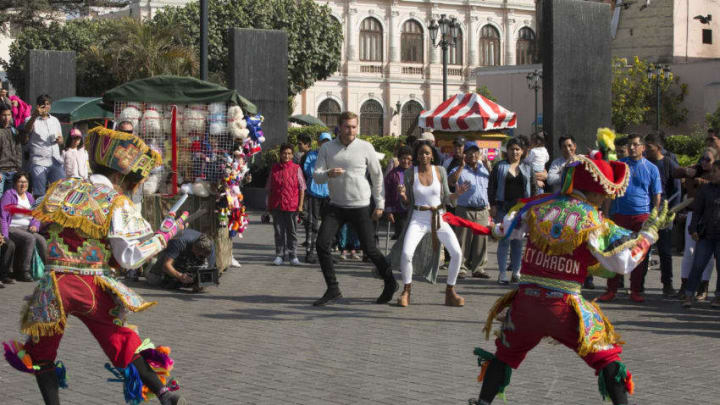 THE BACHELOR - "2407" - The pressure mounts as hometown dates loom, but first Peter and the remaining six women travel to beautiful Lima. After a supportive conversation with his mom, Peter is inspired to pay the women a surprise visit for a serious chat. How will they respond to his wake-up call to focus on their feelings? Madison and Peter come to a make-or-break moment in their relationship after a magical day together. Peter and Natasha spend a whirlwind day shopping, eating and having fun, but will the chemistry be there? Kelsey has a family secret she dares to share with the charming pilot, but will she get a rose and a hometown date? The dreaded three-on-one date pits one confident woman against two panic-stricken bachelorettes. The tough decisions are just beginning for Peter, as four women prepare to take him home to meet their families on "The Bachelor," MONDAY, FEB. 10 (8:00-10:00 p.m. EST), on ABC. (ABC/Francisco Roman)PETER WEBER, NATASHA /
Peter goes to Peru and we go on a lot of tangents about DMs and dating on this week's Bachelor podcast.
This week's Bachelor podcast covers so, so many things. We chat about the women Peter sent home from Peru and the bonkers decisions our dear, sweet Bachelor boy continues to make. But we also talk about DMs and dating, moms and hometowns and those rumors Pete ends the season with his producer!
Cue up the latest episode of Can I Steal You for a Second?, FanSided's Bachelor podcast, embedded below, and follow along on Dustin, Ashley and Shea's journey…somewhere, who is to say, these Bachelor nights go late.
How to marry a Bachelorette contestant (episode 7 recap)
Dustin, Ashley and Shea talk Peter in Peru, Dustin's DMs and who we think Mama Weber wants him to bring home. Also: Justice for Kelley!
More on Can I Steal You for a Second?
"A Bachelor Podcast with Season 15 Bachelorette contestant Dustin Kendrick and Co-Host Ashley Young. Dustin shares all his insights on Pete Weber as he searches for love."
For more, explore The Bachelor section at FanSided.com and follow FanSided Entertainment on Twitter as we live tweet every episode.