Lu Harris-Champer to retire after leading Georgia softball for more than 2 decades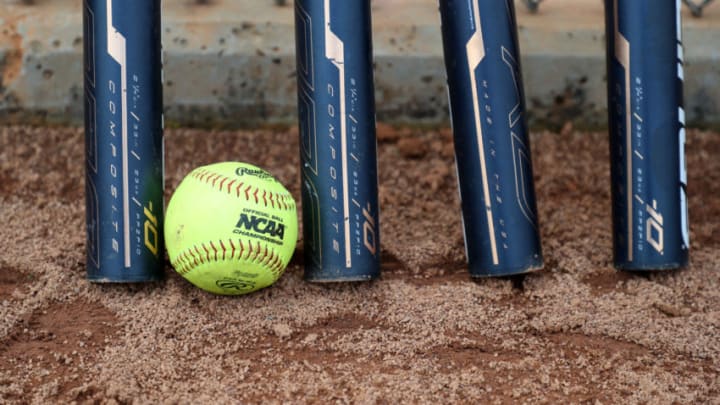 GREENSBORO, NC - MARCH 11: NCAA Softball and bats during a game between Northern Illinois and UNC Greensboro at UNCG Softball Stadium on March 11, 2020 in Greensboro, North Carolina. (Photo by Andy Mead/ISI Photos/Getty Images) /
The Georgia Bulldogs will be looking for a new head coach as Lu Harris-Champer has decided to retire.
After serving as the head coach for the Georgia Bulldogs for 21 seasons, Lu Harris-Champer has chosen to retire. Harris-Champer, who has been a NCAA Softball head coach for 25 years, is retiring after her seventh trip to the Women's College World Series.
Georgia announced that Harris-Champer had made the decision to retire in a news release Sunday afternoon.
She was hired before the 2001 season began and has been in Athens ever since. Harris-Champer is just the second coach to lead the Georgia Bulldogs on the softball diamond and is very clearly the most successful coach in the program's history.
Lu Harris Champer's time as the head coach of the Georgia Bulldogs has been exceptional and successful
During her time in Athens, Harris-Champer has seen a ton of success. According to the news release, Georgia won 959 games under Harris-Champer's leadership.
That averages out to just over 45 wins a year (including a 2020 season that was shortened by a global pandemic) with Harris-Champer as head coach in Athens.
And although UGA never won a national title with Harris-Champer at the helm, the Bulldogs were frequent visitors to the Women's College World Series. Prior to the 2021 season, Georgia made it to the WCWS in 2009, 2010, 2016, and 2018.
The Bulldogs just finished up the 2021 NCAA Softball season with a trip to Oklahoma City. UGA went 0-2 in the 2021 Women's College World Series.
Before she arrived in Athens, Harris-Champer was successful at Southern Miss. In Hattiesburg, she was able to lead her to the Women's College World Series twice, once in 1999 and once in 2000.
It is not yet clear who will serve as the permanent successor for Harris-Champer.
In a news release, Georgia said Tony Baldwin, currently the Associate Head Coach of the Bulldogs, will serve as the Interim Head Coach. UGA announced that it will undergo a national search for its next head coach.
For more NCAA softball or NCAA baseball news, analysis, opinion and unique coverage by FanSided, click the links and bookmark these pages.