Super Bowl 56 party recipes: Best 10 foods to have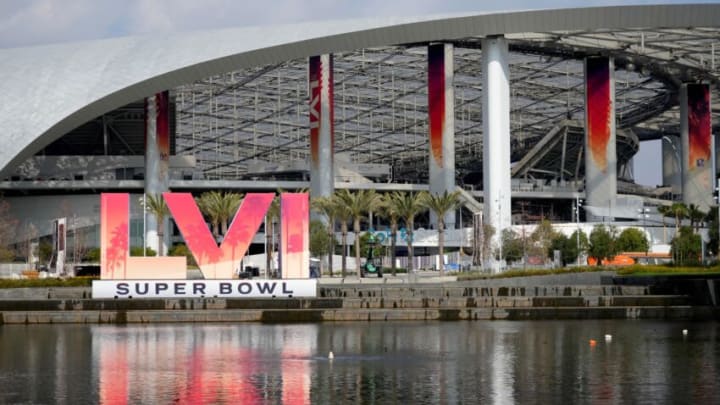 Feb 1, 2022; Inglewood, CA, USA; The Super Bowl LVI numerals logo is seen at SoFi Stadium. Super Bowl 56 between the Los Angeles Rams and the Cincinnati Bengals will be played on Feb. 13, 2022. Mandatory Credit: Kirby Lee-USA TODAY Sports /
With Super Bowl 56 on the horizon, here are 10 of the best foods to eat as the Los Angeles Rams take on the Cincinnati Bengals.
Super Bowl 56 is just days away, which is the biggest day of the year for NFL fans, even if their favorite teams are not playing for the Lombardi Trophy. Not even that, but those casual viewers will be tuning in, whether to watch the game, the commercials, or the halftime show featuring Dr. Dre, Kendrick Lamar, Mary J. Blige, Eminem and Snoop Dogg.
One thing that is certain to take place during the Super Bowl is the food that will be provided, whether they take place at your own homes, or at your relative or friends residence. But what is the best foods to eat while watching the big game?
Super Bowl 56: 10 best foods to have
Buffalo Wings
Pizza
Hamburgers/Sliders
Chicken Sandwiches/Sliders
Pulled Pork
Pigs in a Blanket
Nachos
Potato skins
Sub Sandwiches
Jalapeno Poppers
At the top are buffalo wings, which you can really never go wrong with during the big game. It is a classic, simple as that.
Pizza always comes in the clutch. You can either make your own or you can order from your local pizzeria. If you are ordering, be sure to do so as early as possible to avoid being stuck on an hours long line.
When it comes to finger foods, the best options are pigs in a blanket, nachos, potato skins and jalapeno poppers. Nachos can easily be replaced with chips and a dip, whether that is queso or spinach dip. Those are easy choices for the host to put on the kitchen/coffee table for their guests to pick at while watching the Bengals and Rams do battle.
Burgers, chicken sandwiches and pulled pork are great options to eat. If you want to go big, make them regular size. Or, there is always the slider option.
An easy option is sub sandwiches. It can feed your guests and you can have leftovers. Never a bad choice.