NFL Draft rumors: Jaguars could have new plans for No. 1 pick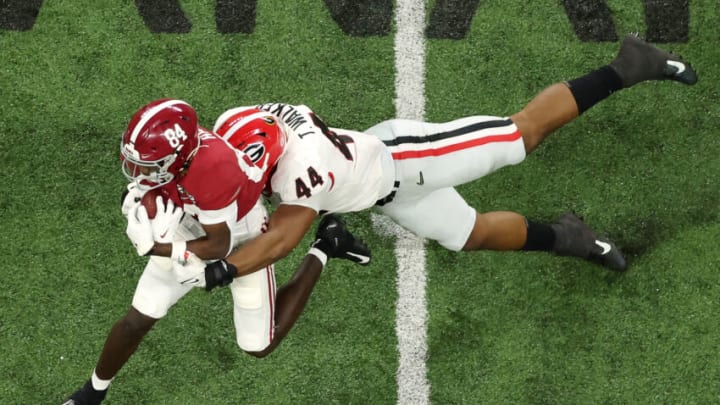 Travon Walker #44 of the Georgia Bulldogs (Photo by Dylan Buell/Getty Images) /
The Jaguars have been in line to take Aidan Hutchinson with the No. 1 pick for some time but now a new candidate has emerged according to NFL Draft rumors.
As the 2022 NFL Draft process has moved forward, there was a time when the Jacksonville Jaguars appeared certain to take Michigan edge rusher Aidan Hutchinson with the No. 1 overall pick. But now a dark horse has flown up big boards and could be in line to hear his name called first in Las Vegas: Georgia edge rusher Travon Walker.
With more information coming out, it's beginning to look as if there is fire because of all of the smoke surrounding Walker and his draft stock. He's reportedly at the top of the list for many teams and the Jaguars seem to potentially be among them.
NFL Draft rumors: Could Jaguars take Travon Walker over Aidan Hutchinson at No. 1?
As mentioned, the other most likely contender to be the first overall pick alongside Walker is Hutchinson. Both would be strong options.
Sports Illustrated Jaguars beat reporter John Shipley analyzed and compared the likelihood of each being No. 1.
"Not only does Travon Walker fit a lot of Trent Baalke's favorite things in a defensive line prospect (upside, length, size), but where there is smoke there is normally fire," Shipley said. "Even if the Jaguars don't take Walker No. 1, I am of the belief that the team — and especially Baalke — are very high on him as a prospect and have talked about him a good bit as a result."
Shipley also went on to note that he believes that Jacksonville and general manager Trent Baalke are indeed interested in Walker, largely due to the fact that the Georgia product has a higher ceiling. However, he went on to say that he still believes that the Jags end up selecting Hutchinson, adding, "I am not going to move off that."
As is often the case with NFL Draft rumors, there seems to be a real case for both players. No matter what happens, though, the possibility of Walker being the pick seems to be legitimate.