Broncos rumors: Russell Wilson will ask for $250 million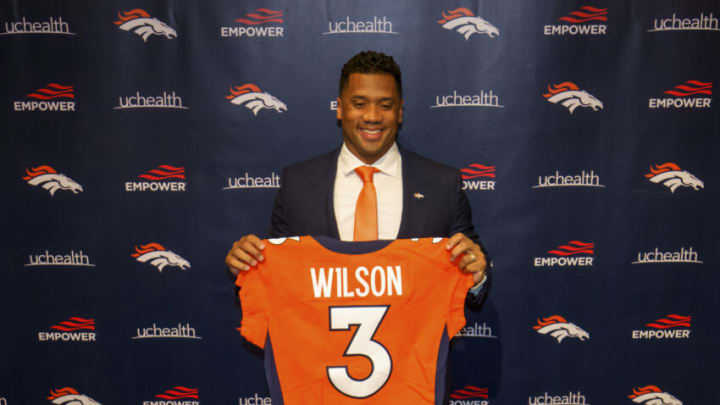 Russell Wilson, Denver Broncos. (Photo by Justin Edmonds/Getty Images) /
After trading four premium draft picks and three players to the Seattle Seahawks for quarterback Russell Wilson, the Denver Broncos still need to pay a fortune.
Keeping Russell Wilson in the Mile High City may prove more costly than acquiring him.
Wilson, whose contract runs through 2023, is reportedly going to seek $250 million across five years on a new deal. If he were to receive that contract, he'd be the second-highest paid player in football behind only Green Bay Packers quarterback Aaron Rodgers. Currently, Wilson has two years left on a four-year, $140 million pact with has remaining cap hits of $24 and $27 million, with only $5 million of guaranteed money left.
Russell Wilson rumors: Is he worth $250 million?
At 34 years old, paying Wilson such a freight is full of danger, but Denver might not have much choice. Although Wilson isn't coming off consecutive MVP campaigns like Rodgers is, he's still considered an elite player and one who is much younger than the Green Bay star.
Furthermore, the average annual value and years are fine to note, but what will the guaranteed money be? That's the main number which matters. Yet after seeing Deshaun Watson get $230 million guaranteed from the Cleveland Browns despite ongoing, off-field issues, Wilson could ask for the entire $250 million to be guaranteed and be within reason, despite being almost a full decade older.
After sending away two first- and second-round picks to the Seahawks, Denver really has no choice but to give Wilson most if not all of what he wants. And if he's still a top-10 quarterback, the money is likely worth it.