Chase Claypool under fire for another costly Steelers faux pas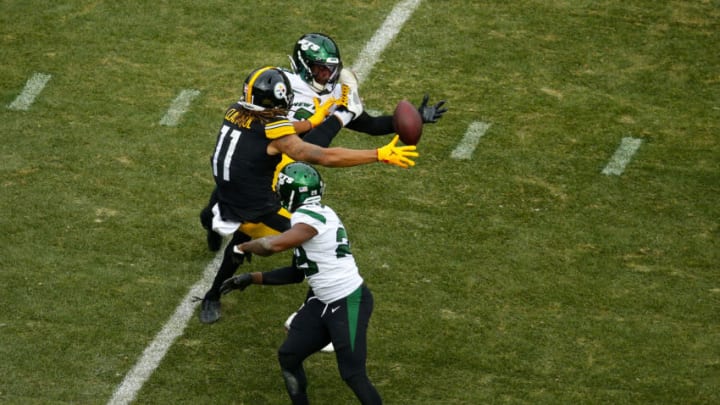 PITTSBURGH, PENNSYLVANIA - OCTOBER 02: Chase Claypool #11 of the Pittsburgh Steelers attempts to make a catch that was intercepted by Jordan Whitehead #3 of the New York Jets in the third quarter at Acrisure Stadium on October 02, 2022 in Pittsburgh, Pennsylvania. (Photo by Justin K. Aller/Getty Images) /
Pittsburgh Steelers wide receiver Chase Claypool becomes the talking point after a close loss to the Jets after another costly mistake. 
Last December, Steelers fans were livid about what they saw from wide receiver Chase Claypool.
The second-year wide receiver had become an integral part of the Steelers offense, averaging a little over 14 yards per reception in his first two seasons. Understandably, his role grew in his second season after making the PFWA All-Rookie Team in 2020, which is why the team came to depend on him in a pivotal Week 14 moment versus the Minnesota Vikings last year.
With the Steelers down eight and less than 40 seconds left on the clock, Claypool began celebrating converting a fourth down. It was the right energy for the accomplishment, but it was at the worst time. The Steelers lost 36-28 as a touchdown pass to Pat Freiermuth fell incomplete, leaving fans wondering about Claypool's untimely celebration.
After the game, Claypool explained his dance, maintaining that it ultimately didn't matter since the ref took time to arrive.
""I got tackled near the hash, did my little first-down point and went to hand the ball to the ref. He had just got there," Claypool said. "So, even if I got right up and looked for him, he wasn't there. So, he ran down the field to come get the ball. The ball got knocked out of my hands. That's what cost us time.But I definitely do have to be better. I knew the situation. I know I'm near the hash. I know the ball's placed on the hash. I gotta be better. The ball shouldn't get knocked out of my hands. It should be a penalty.""
Unfortunately, Claypool is being dragged again for another costly faux pas, one that's a little tougher for a receiver to face. While Claypool was criticized last year for how he celebrated making the catch, in Week 4, Claypool failed to make a difficult one that could have been a turning point in the game.
Chase Claypool criticized for failing to make crucial catch in Week 4 loss to Jets
When Steelers quarterback Mitch Trubisky was finally benched, Acrisure Stadium erupted in cheers, giving rookie Kenny Pickett a standing ovation.
Unfortunately, Pickett's very first NFL pass was picked as he targeted Claypool deep downfield.
Steelers fans defended Pickett's decision as those looked to blame Claypool instead for dropping the ball.
As many fans pointed out, even if Pickett's ball was underthrown, the 6'4″ wideout is expected to make a contested catch like that.
If Claypool made that catch, the Steelers would have been in the redzone. At worst, they were set up for an easy field goal, and at best, they score seven on the drive. Either situation would have been more ideal, which is what brings Claypool under heavy Steelers scrutiny once again.