The 5 most memorable games of the 2017-18 NHL season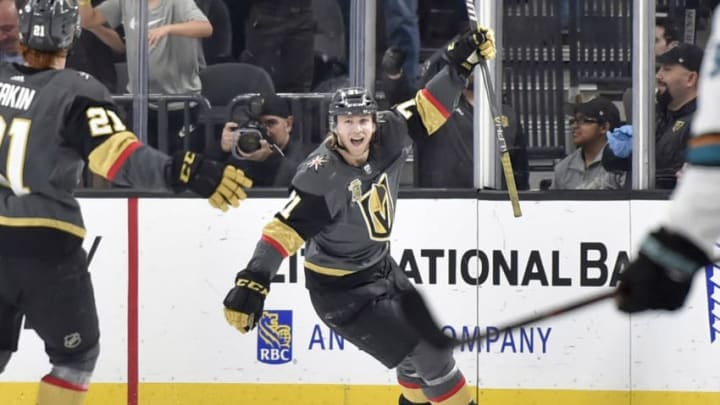 LAS VEGAS, NV - MARCH 31: William Karlsson /
The 2017-18 NHL regular season was one of the most exciting and interesting in a long time. Let's take a look back at the most memorable games from this past year.
The book is closed on the 2017-18 NHL season, and with all the playoff matchups underway and the rest of the bunch hitting the golf courses a bit early this year, there's no better time to look back at the season that has passed.
This year brought us the emergence of the Vegas Golden Knights, who took the league by storm, becoming everyone's favorite expansion team while somehow breaking every record imaginable in the process. Many new teams and players made the playoffs this year including, the New Jersey Devils and the impressively rebounded Colorado Avalanche, both of which were led by their breakout stars in Taylor Hall and Nathan MacKinnon.
The Winnipeg Jets and the Toronto Maple Leafs have taken over as the best Canadian teams in the league as the rest of the bunch of floundered spectacularly in their own unique ways and the Pittsburgh Penguins are still looking like they have a chance at a three-peat.
Overall, this season has been extremely exciting and has been one of the most equally contested and most highly followed in a long time. These are the five most memorable games of the season.
5. Brian Boyle scores his first goal after cancer diagnosis
When the Devils signed veteran center Brian Boyle during the offseason, neither party would have expected the series of events that followed over the course of the following months. Boyle was diagnosed with chronic myeloid leukemia at the end of September, just a couple of weeks removed from the Devil's October 7 home opener.
Boyle would undergo treatment and missed the first month of the season. He was cleared to return and did so for the Devils on the first of November in an away game against the Canucks. What made this even more special for Boyle was the fact that November is the NHL's Cancer Awareness Month, in which all 31 teams in the league campaign and donate to help fight cancer.
While Brian Boyle is most definitely not known for his goal scoring ability, it was a goal that he scored in a home game against the Oilers on November 9 that was the talk of the league.
Boyle's goal was his first from after his return to playing since treatment and subsequently was his first goal in a Devils uniform. As a player who is very well-respected among his peers, and as someone who received an outpouring of support from both the NHL and fans, everyone was happy to see something so great happen for him.
The story of Brian Boyle has made him one of the frontrunners for the Masterton Trophy this year, and this game was a great aspect of a great story that has been followed throughout the season.